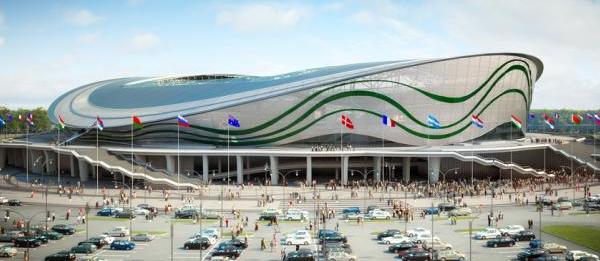 Russia and FIFA have revealed the eleven host cities that will form part of the 2018 World Cup. They did this on Saturday during a ceremony in Moscow.
There will be eleven host cities, but twelve playing venues as Moscow will provide two venues. The cities have been divided into four geographical clusters (according to FIFA):
Central cluster: Moscow (Luzhniki Stadium and Spartak Stadium)
Northern cluster: Saint-Petersburg (New Zenit Stadium) and Kaliningrad.
Volga cluster: Nizhny Novgorod, Kazan (New Kazan Stadium), Samara, Saransk, and Volgograd.
Southern cluster: Rostov-on-Don and Sochi.
The fact that host city Ekaterinburg cannot be fit in one of these clusters makes the whole exercise rather nonsensical.
As thirteen cities had already been pre-selected, there were obviously few surprises. The two cities that did not get selected were Krasnodar and Yaroslavl.
The exclusion of the latter is not that surprising as Yaroslavl is a relatively small city with only a modest football history. Though the team has added up quite a few Premier League (RPL) seasons in the last two decades, its support has remained relatively limited. Its location relatively close to Moscow and Novgorod also did not give it an extra edge.
Krasnodar's exclusion, however, is perhaps more of a surprise. The city is on the rise with two RPL clubs, FC Kuban is one of the best-supported teams in the league, and the proposed Krasnodar World Cup Stadium was among the largest with a capacity of 50,000 seats.
Fair enough, both Krasnodar clubs have only recently come to prominence and Krasnodar does not rank among Russia's largest cities, but one feels that it may have deserved a spot.
FIFA has not given any reasons for its exclusion, though its proximity to Sochi, which has a ready stadium in the 2014 Olympic Stadium may have played a role. In terms of legacy, including Sochi makes sense, though the city has little football culture to boast on.
The other host cities are all either large cities, or home to an established RPL side, though Saransk is an exception. The city only has 300,000 inhabitants, FC Mordovia only recently made it to the RPL, the club has relative little support, and other host cities Novgorod, Kazan, and Samara are close. The fact that construction of the new stadium in Saransk has already started therefore must have given it the extra edge.
The other stadiums that are already under construction are the New Zenit Stadium, New Kazan Stadium, Fisht Olympic Stadium, and Spartak Stadium. The other proposed stadiums are still in the design stages and not expected to start construction this year. Some will probably need a considerable financial incentive of the state to get going.
Spartak Stadium was finally chosen over the VTB Arena, the planned new stadium of Dynamo Moscow. While Dynamo recently made a case to convince FIFA over choosing them over Spartak, the selection of Spartak Stadium comes not as a surprise. Construction of the new stadium has already started and is progressing steadily, while that of Dynamo's more extravagant, and therefore more risky, new stadium will only start next year.
Many European teams will likely hope to play their group matches at the exclave of Kaliningrad, squeezed in between Lithuania and Poland, and located closest to most Western-European countries. While Kaliningrad has a sizeable population, its inclusion feels a bit as a gimmick as FC Baltika Kaliningrad has hardly been a force in Russian football and currently plays two divisions below the Premier League.