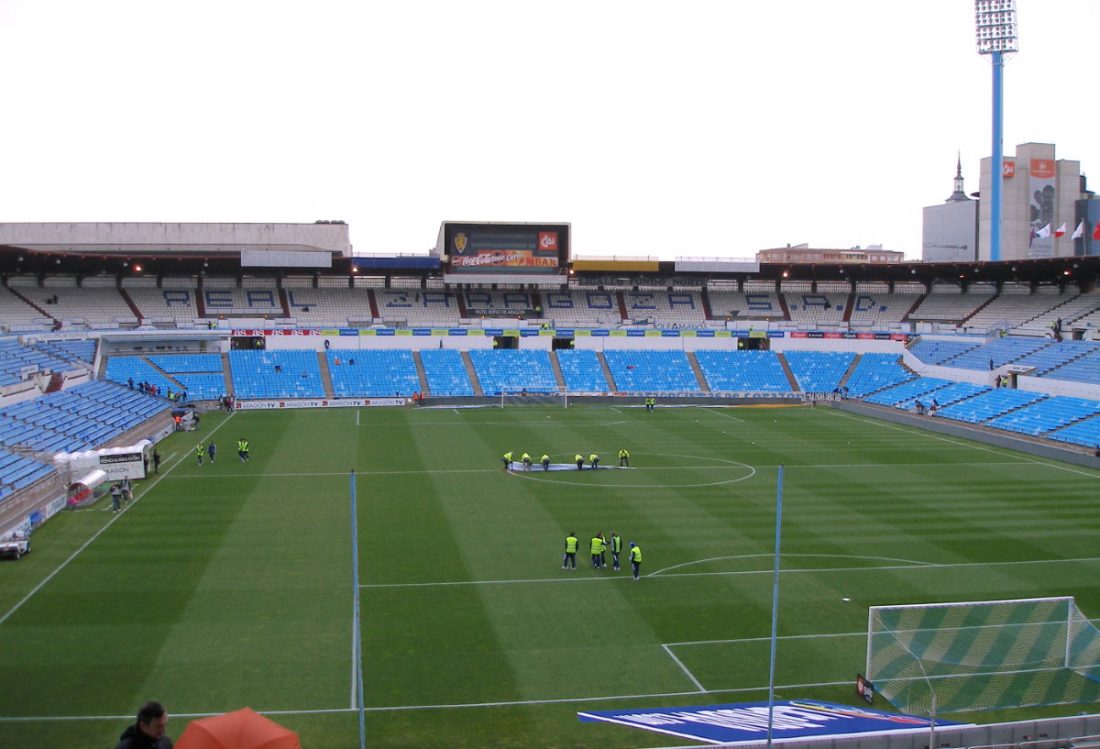 Key facts
Club: Real Zaragoza | Opening: 1957 | Capacity: 34,596 seats
History and description
Estadio La Romareda opened on 8 September 1957 with a match between Real Zaragoza and Osasuna (4-3). The stadium back then had a fully enclosed first tier and two smaller second tiers on both sides. The main stand was the only stand to have cover.
Estadio La Romareda got further expanded in 1977 when second tiers got added to both ends, which raised capacity to 50,000 places.
A few years later, in preparation for the 1982 World Cup, the stadium received a refurbishment, which included a roof for the eastern side of the stadium and additional seating.
During the World Cup, Estadio La Romareda hosted a total of three group matches.
La Romareda underwent its final change in the mid 1990s when the standing areas got converted into seats and further hospitality areas were added to the stadium.
In the 2000s, various plans were made for the construction of a brand new stadium, but in the end all plans were shelved, mainly due to a lack of funding.
How to get to La Romareda
Estadio La Romareda is located in the south-west of the city of Zaragoza, just south of the University of Zaragoza main campus and about 2.5 kilometres from the city centre. Zaragoza's main railway station, Estación de Delicias, lies about 2.5 kilometres north of the stadium.
From Estacion de Delicias take the circular buses Ci1 or Ci2, or bus 42 (to La Paz)  to get to the stadium. Bus 42 passes right in front of the stadium on Paseo Isabel la Catolica.
From the historic centre (Plaza de España) take bus 40 to Via Hispanidad. It will pass right in front of the stadium on Paseo Isabel la Catolica. Bus 35 is an alternative, though follows a different route.
Address: Paseo Isabel la Católica s/n, 50009 Zaragoza
Real Zaragoza Tickets
Tickets for Real Zaragoza games can be bought online, or at the ticket windows of the stadium.
Tickets are also available at the ticket windows on the day of the match. Real Zaragoza rarely sell out.
Ticket prices typically range from €15.00 for a lower-tier seat behind the goal to €35.00 for a covered seat at the main stand.
La Romareda Stadium Tours
Estadio La Romareda houses the Real Zaragoza museum that details the history of the club. The museum opens Mondays to Fridays from 9:00 am to 2:00 pm and from 4:30 pm to 7:30 pm.
Email real@realzaragoza.com for more information.
Photos of La Romareda
Useful Internet links
Realzaragoza.com – Official website of Real Zaragoza.
Zaragoza.es – Zaragoza tourist information.
Tuzsa.es – Zaragoza public transport information.
Photos credits: Migueltrzn & Campeones2008