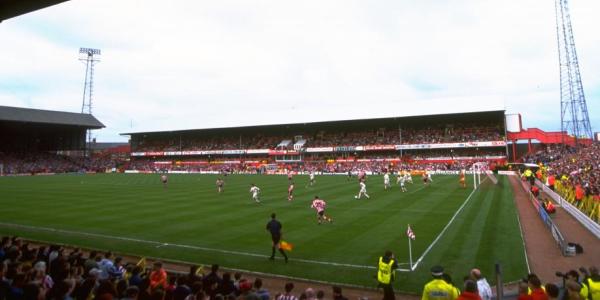 Key facts
Club: Sunderland AFC | Opening: 1898 | Closing: 1997 | Final capacity: 22,500
Description
Roker Park was between 1898 and 1997 the home of Sunderland AFC. It was the successor of a site on Newcastle Road that Sunderland occupied in the late 19th century but which had quickly become too small for the increasing crowds. A site was therefore selected for a new stadium and on the 10 September 1898 Roker Park officially opened with a match against Liverpool (1-0).
Further developments to the ground were made in 1912 when the Roker End was concreted. About 50,000 people could fit in the stadium at that time. In 1929 a new Main Stand, designed by Archibald Leitch, was built.
The official capacity of Roker Park in the 1930s was 60,000, however in March 1933 a record attendance of 75,118 supporters visited an FA Cup tie between Sunderland and Derby County. A few years later the Clock Stand was rebuilt.
The ground got extensively renovated for the 1966 World Cup with seats installed at the Clock Stand and a roof added to The Fulwell End. During the World Cup three group matches and the quarter-final between the Soviet Union and Hungary (2-1) were played at the ground.
Even though further improvements were made during the 1970s, the stadium gradually deteriorated and lacked any expansion possibilities being hemmed in by housing. In its latter years capacity was severely reduced to a mere 22,500.
In 1996 construction started of the Stadium of Light at a site a few hundred yards away from Roker Park. The Stadium of Light got completed in 1997 and Roker Park was subsequently demolished and replaced by housing estates.