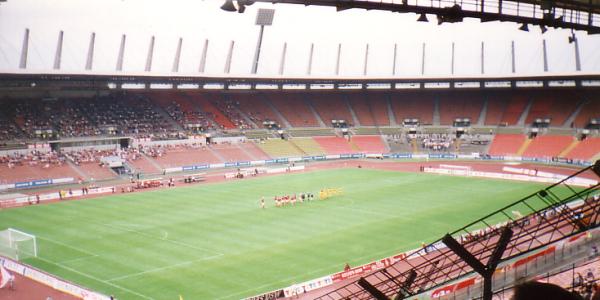 Key facts
Club: Fortuna Düsseldorf | Opening: 1926 | Closing: 2002 | Final capacity: 55,850 | Maximum capacity: 68,000
Description
The Rheinstadion was for years one of Germany's prime football stadiums and in its last 30 years the home of Fortuna Düsseldorf 1895.
The Rheinstadion was built in the mid 1920s and formed part of a complex of other sports facilities. The stadium opened on the 26th of April 1926 with a friendly international between Germany and Holland (4-2). The stadium could hold about 42,500 spectators at that time, though an estimated 60,000 attended the opening match.
Few changes were made to the stadium in the following decades until in 1968 a major redevelopment project was started. This increased the capacity of the stadium, which was now largely covered, to 68,000 places. The renovated stadium opened on the 15th of November 1972 with an international between Germany and Switzerland (5-1).
Works had finished well in time for the 1974 World Cup, for which the Rheinstadion had been selected as a playing venue. During the World Cup the stadium hosted two matches in the first group stage and three matches in the second group stage.
Two years earlier, in 1972, Fortuna Düsseldorf had finally moved into the stadium, having played at the much smaller Flinger Broich until then. The move was not universally liked as the stadium proved to be well too large for Fortuna's attendances, and especially in later years the club considered moving back to their old stadium.
In 1988 the Rheinstadion was again chosen as a playing venue for a major tournament, this time the European Championships. During the tournament it hosted two group matches.
By the early 2000s the city of Düsseldorf started investigating the options of redeveloping the Rheinstadion one more time with the aim of being a host city at the upcoming 2006 World Cup, but in the end was decided to build a complete new stadium instead.
In March 2002 Fortuna moved back to their old Flinger Broich stadium (then called Paul Janes Stadion), and a few months later, on the 22nd of June 2002, the last sports event took place at the stadium, which was the final of the NFL Europe between the Berlin Thunder and Düsseldorf Rheinfire.
In its latter years the stadium could hold about 55,850 supporters. Demolition of the Rheinstadion started in September 2002 and finished in November 2002.
Two years later the new ESPRIT Arena (then still called Multifunktionsarena) opened and became the new home of Fortuna Düsseldorf, though in the end it did not get selected as a playing venue for the World Cup.