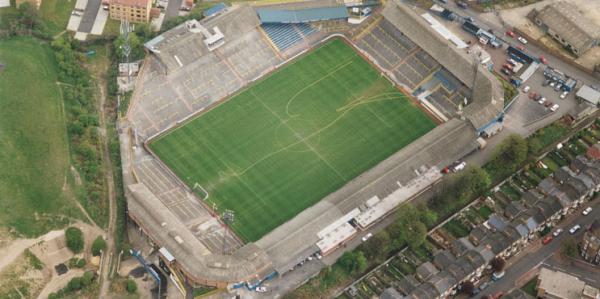 Key facts
Club: Millwall FC | Opening: 1910 | Closing: 1993 | Maximum capacity: 50,000 (est)
Description
Millwall had already occupied various grounds when they moved in 1910 to The Den. They played their first match at the ground on the 22nd of October versus Brighton (0-1).
The Den recorded its highest capacity in 1937 when 48,672 spectators attended a match against Derby County.
The stadium got heavily damaged during the Second World War when a bomb hit the North Terrace and the Main Stand burned down.
The Den, at that time, lay hemmed in by three railroad lines that completely enclosed the stadium. As a result, the upper parts of the North and Ilderton Road terraces were cut off on the sides.
The Main Stand, rebuilt in 1948, was the only part of the stadium with seating and complete cover. The partial roofs of the terraces on the other sides only covered the upper third.
The Den got particularly famous for its hostile and intimidating atmosphere.
Few changes were made in the decades following, and already by the late 1970s plans were made for the construction of a new stadium with 25,000 seats.
These plans led to nothing and in the mid 1980s the stadium received a minor refurbishment to patch up the heavily decayed ground, however to little avail.
Soon after, the board started again making plans for a move to a new stadium, which was to get built only a few hundred yards further north.
The new stadium was unveiled in December 1990, and a few years later, in the summer of 1993, the club made the move to the New Den.
The old Den got subsequently demolished and replaced by housing.