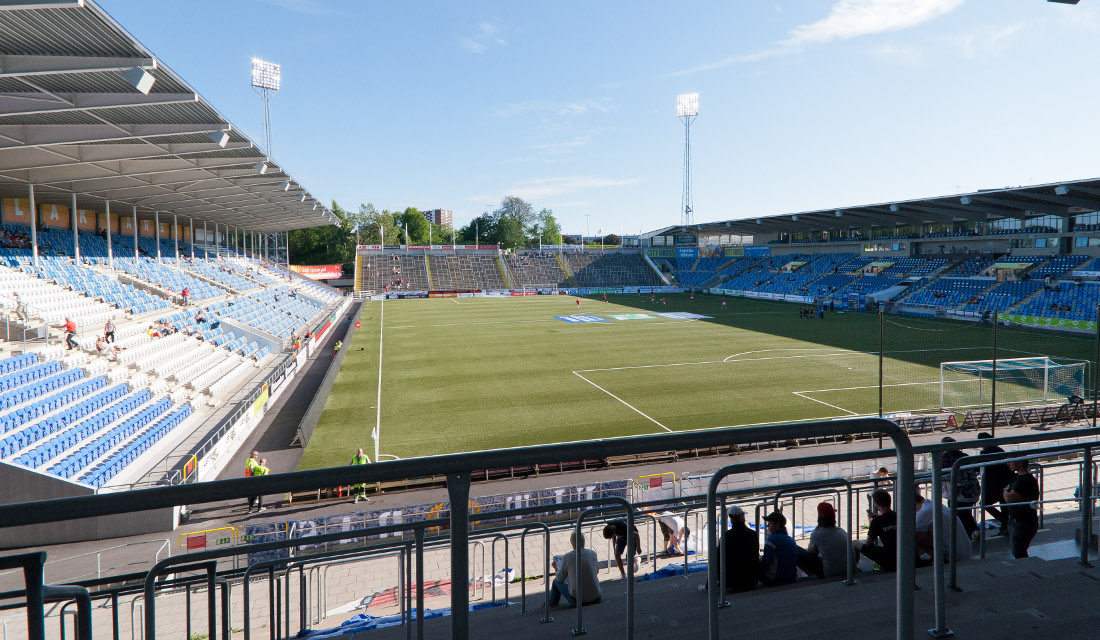 Key facts
Club: IFK Norrköping | Opening: 1903 | Capacity: 16,700 (app. 2,700 standing)
History and description
Östgötaporten, also known as Nya Parken and initially named Norrköping Idrottspark, was built in the early 20th century. Construction of the stadium was an initiative of the city of Norrköping and it was to be used for various other sports besides football. The ground officially opened in 1903.
Idrottspark recorded its highest attendances in 1956 when 32,234 people attended a match between Norrköping and Malmö FF.
Two years later, Idrottspark was one of the playing venues of the 1958 World Cup. During the tournament, two group matches and the quarter-final between France and Northern Ireland (4-0) were played at the stadium.
In 1987, a new East Stand was built and at the same time the running tracks were removed, turning Idrottspark into a proper football stadium.
Idrottspark was one of the four playing venues of the 1992 European Championships. For this the stadium was extensively renovated and two new stands got built at both ends. Three first round group matches were played at the stadium.
The stadium underwent a next major redevelopment in 2008 when three new enclosed stands got built. At the same time it got renamed Nya Parken and an artificial pitch was installed. In 2016, the stadium changed name once again to Östgötaporten following a naming rights sponsorship deal.
Apart from IFK Norrköping, lower league teams IK Sleipner and IF Sylvia also play their home matches at Nya Parken.
(photos of the present Nya Parken below)
How to get to Östgötaporten
Östgötaporten is located just south-west of Norrköping's city centre. The walk from the centre will take 10 to 15 minutes, whereas the walk from Norrköping's train station, which lies north of the centre, takes about 20 minutes.
If arriving by car, follow directions to Norrköping city centre and walk from there.
Frequent trains connect Norrkoping with Stockholm. The journey takes about 70 minutes on the high speed service and up to half an hour more on the slower services.
Address: Ektorpsgatan 1, 602 37 Norrköping
Eat, drink, and sleep near Östgötaporten
Östgötaporten is located in a leafy residential neighbourhood a short walk away from Norrkoping's city centre, where there are plenty of places to eat and drink.
There are about a dozen hotels to choose from in Norrkoping's centre, including the Best Western Princess and Pronova Hotell a short walk away from the stadium. Click here for an overview of hotels near Nya Parken and elsewhere in Norrkoping.
If the game kicks off in the afternoon or early evening, you'll also easily be able to make a day trip from Stockholm to the game.
IFK Norrkoping Tickets
Tickets for IFK Norrköping games can be bought online, at the IFK club office at the stadium, or at the Norrköping tourist office at the Källvinsdsgatan 1 in the city centre.
A ticket for the standing area costs SEK 130.00, while a seat costs either SEK 220.00 for the East Stand or SEK 240.00 for the West Stand.
For a number of high-profile matches prices are increased with SEK 50.00.
Photos of Östgötaporten
Östgötaporten on Instagram
[instagram-feed location="236875848″]
Relevant Internet links
Ifknorrkoping.se – Official website of IFK Norrköping.
Upplev.norrkoping.se – Norrköping tourist information.