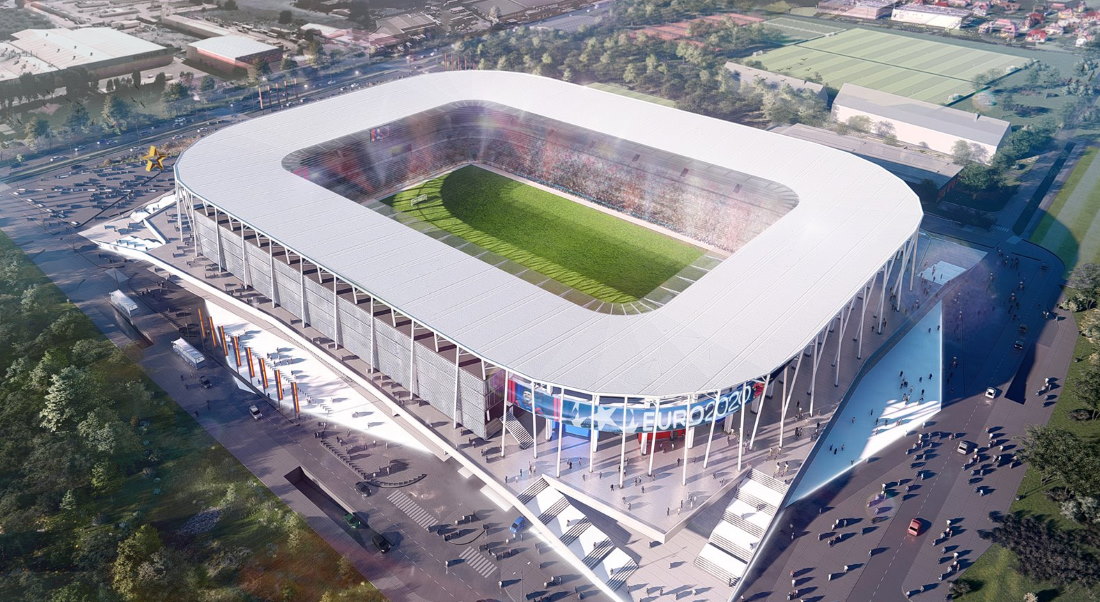 Key facts
Club: CSA Steaua | Capacity: 31,254 seats | Scheduled opening: 2020 | Status: under construction
Description
Noul Stadion Steaua, also referred to as Noul Stadionul Ghencea, is the currently under construction new home of lower tier club CSA Steaua, not to be confused with FC Steaua Bucharest, the top tier club (both originating from the same historic club, splitting up in 2017).
The stadium replaces the old Stadionul Steaua, which had been the home of Steaua between 1974 and 2015 but had fallen into disrepair. It got demolished in 2018.
Plans for the new stadium got presented in 2017. It would become the home of newly formed CSA Steaua, owned by the Army, and serve as a training ground for the teams playing in Bucharest during the Euro 2020 tournament.
FC Steaua had at that moment already moved to the large Arena Nationala, and has of yet to decide which stadium to call their home in the future, also contemplating the smaller under-construction Arcul de Triumf Stadium.
Initial designs showcased a 30,000 all-seater in spectacular star shape, but these were scaled back to a much simpler design later due to cost overruns. Capacity remained the same though, and even increased a little.
Construction works started in early 2019 and are expected to be completed in 2020. The stadium has come at a cost of 95 mln euros, significantly higher than the initial budget of 66 mln. It is fully publicly funded.
Images of Noul Stadion Steaua