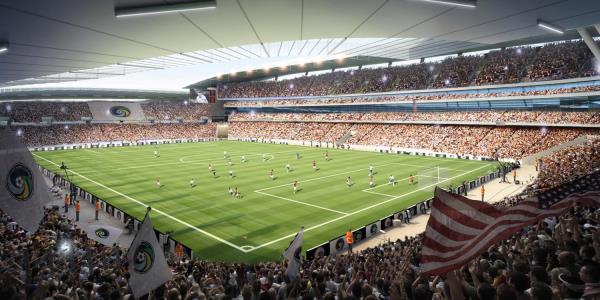 Key facts
Club: New York Cosmos | Capacity: 25,000 seats | Scheduled opening: 2016 | Status: proposed
Description
New York Cosmos Stadium is the proposed new stadium of the recently revived New York Cosmos.
Plans and renderings for the new stadium were presented in early 2013 even before the Cosmos had played their inaugural match of the 2013 NASL season.
The $400-million project involves the construction of a brand new stadium combined with retail shops, multiple restaurants, a hotel, and a public park.
New York Cosmos Stadium is proposed to have a capacity of 25,000 seats and it will have a downward slope from east to west so that it will have limited impact on the nearby housing.
The stadium is planned to get built at a site in the Elmont area on the eastern border of the New York borough Queens alongside the Belmont Park race track.
If an agreement is reached with local officials, building works are expected to begin in 2014 and the first retail outlets are to open in 2015. The stadium will be completed in 2016.
The plans come at the same time as plans of the MLS to build a new stadium in Flushing Meadows park further north in Queens. While both projects claim to work independently, there is a chance that the plans will get merged into one.