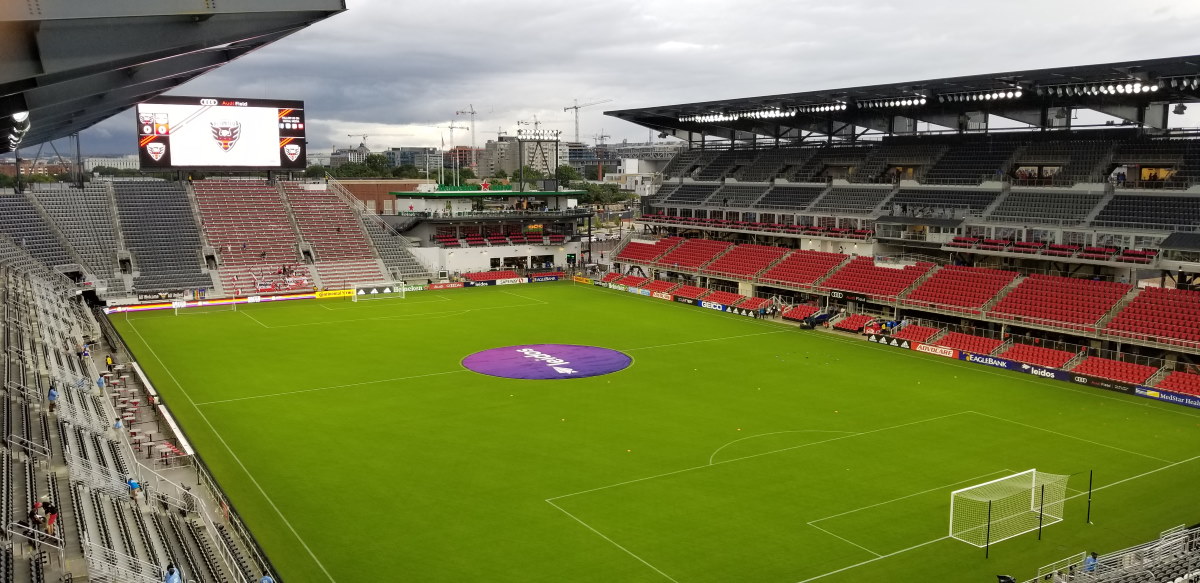 Key facts
Club: DC United | Opening: 2018 | Capacity: 20,000 seats
History & description
Audi Field is the newly constructed stadium of DC United. The club had long sought to build a new soccer-specific stadium that would replace the too large and ill-suited RFK Stadium as their permanent home. First plans for a move were made around 2005 and in subsequent years different plans followed, however all were abandoned due to a mix of lack of funding and lack of support from the local council.
In 2011, plans circled in on a proposed site at Buzzard Point in the south of DC, not far from the Nationals Park baseball stadium. In these plans, the new DC United stadium would be part of a larger regeneration project for the area which would involve investments in residential and commercial developments.
Subsequent delays, however, further stalled the plans until a final agreement with the Washington DC council was announced in June 2015.
Construction of the new stadium started in 2017 and was completed during the 2018 MLS season, slightly later than planned. Audi Field officially opened on 9 July 2018, though the first match was played a few days later on the 14th: a league match vs Vancouver Whitecaps (3-1).
In 2017, a naming rights sponsorship deal was announced with car manufacturer Audi, resulting in the name Audi Field.
How to get to Audi Field
Audi Field is located rather centrally in the Buzzard Point area just south of downtown Washington DC. It lies almost next to baseball stadium National Park of the Washington Nationals.
It's about a 30-minute walk from Capital Hill and the National Mall, and about 15 to 30 minutes more from downtown DC.
The closest metro station is Navy Yard metrorail, which lies on the other side of Nationals Park. An alternative is Waterfront Station, at a similar distance from the ground. Both stations are on the green line, which runs through downtown and connects with various other lines.
Address: 100 Potomac Ave. SW, Washington D.C. 20024
DC United tickets
Tickets for DC United games can be bought online.
Ticket prices may vary somewhat depending on the opponent. Expect to pay from $35.00 for an uncovered seat behind the goal to $90.00 for a central covered seat at the main stand.
Tickets are easily available for most home games but booking in advance is advised as United does very occasionally sell out.
Photos of Audi Field
Photo credits: Alliecat1881 & Rainclaw7
Useful Internet links
Dcunited.com – Official website of DC United.
Washington.org – Washington DC tourist information.
Audifielddc.com – Official website of Audi Field