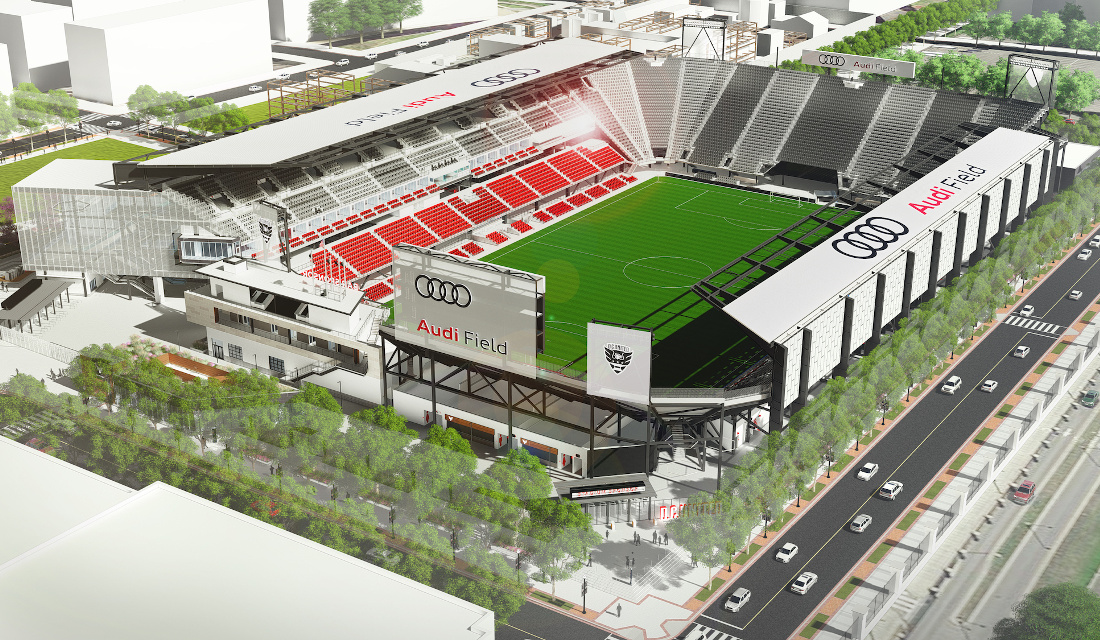 Key facts
Club: DC United | Capacity: 20,000 seats | Scheduled opening: 2018 | Status: under construction
Description
Audi Field is the currently under construction new stadium of DC United.
DC United have long sought to build a new soccer-specific stadium that would replace the too large and ill-suited RFK Stadium as their permanent home. First plans for a move were made around 2005 and in subsequent years different plans followed, however all were abandoned due to a mix of lack of funding and lack of support from the local council.
In 2011, plans circled in on a proposed site at Buzzard Point in the south of DC, not far from the Nationals Park baseball stadium. In these plans, the new DC United stadium would be part of a larger regeneration project for the area which would involve investments in residential and commercial developments.
Subsequent delays, however, further stalled the plans until a final agreement with the Washington DC council was announced in June 2015. The club then needed a compulsory purchase order to buy the land, which was granted later that year.
Construction of the new stadium started in 2017 and is expected to be completed before the start of the 2018 MLS season. It will have a capacity of 20,000 seats, including 31 suites.
In 2017, a naming rights sponsorship deal was announced with car manufacturer Audi, resulting in the name Audi Field.
Images of Audi Field