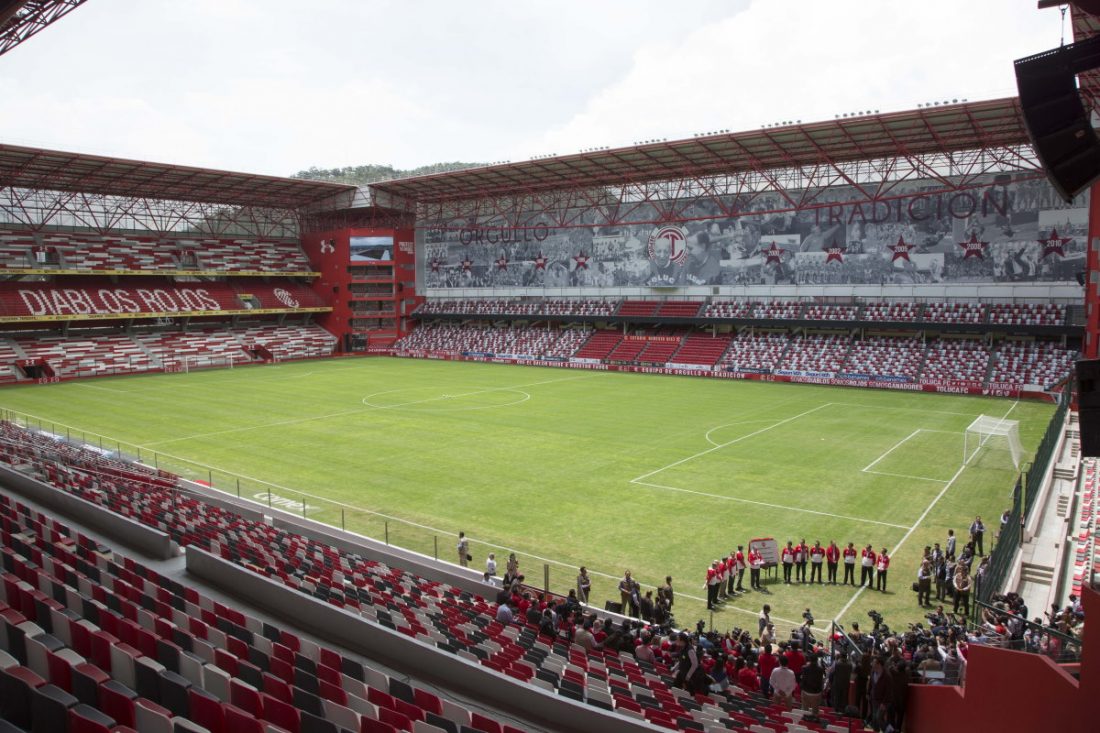 Key facts
Club: Deportivo Toluca FC | Opening: 1954 | Capacity: 30,000 seats
History and description
Estadio Nemesio Diez officially opened on 8 August 1954, though Toluca had already been playing at the site for various years.
The stadium was initially called Estadio Héctor Barraza, later Estadio Luis Gutiérrez Dosal, then Estadio Toluca 70, Estadio Toluca 70-86, and finally Estadio Nemesio Diez Riega. It often gets referred to as La Bombonera though.
Estadio Nemesio Diez was one of the five playing venues of the 1970 World Cup, during which it hosted three first round group matches and the quarter-final between Italy and Mexico (4-1).
Sixteen years later, in 1986, it was again a playing venue during a World Cup, but this time only hosted three first round matches.
In 2016, Estadio Nemesio Diez underwent a major redevelopment in which upper tiers were built on top of the single-tiered stands and a new roof, supported by four columns in the corners, was erected. This raised capacity with 3,000 seats to 30,000.
How to get to Estadio Nemesio Diez
Estadio Nemesio Diez is located in central Toluca just south-west of Toluca's city centre. The walk will take about 15 minutes.
The central bus terminal, which is located toward the south-east of the city, lies further away (about 3 kilometres from the stadium). Either catch a bus toward the city centre and walk, or take a taxi.
Buses from Mexico City to Toluca depart very frequently from Mexico City's western bus terminal (Poniente) near Observatorio metro station.
Address: Felipe Villanueva 300, Colonia San Bernardino, Toluca
Toluca Tickets
Tickets for Toluca games can be bought online, or at the ticket office at the stadium from a day before the match.
Tickets are generally also available at the ticket windows of the stadium on the day of the match, though a few high-profile matches (e.g. America) may sell out.
Tickets typically range in price from MX$ 100.00 for the uncovered sections behind the goal to MX$ 600.00 for an upper-tier seat at the main stand. Most other tickets go for between MX$ 150.00 and MX$ 300.00. Prices are significantly increased for a few high-profile matches.
Photos of Estadio Nemesio Diez
(pre-2016 redevelopment)
Relevant Internet links
Deportivotolucafc.com – Official website of Toluca FC.
Toluca.gob.mx – Toluca tourist information.