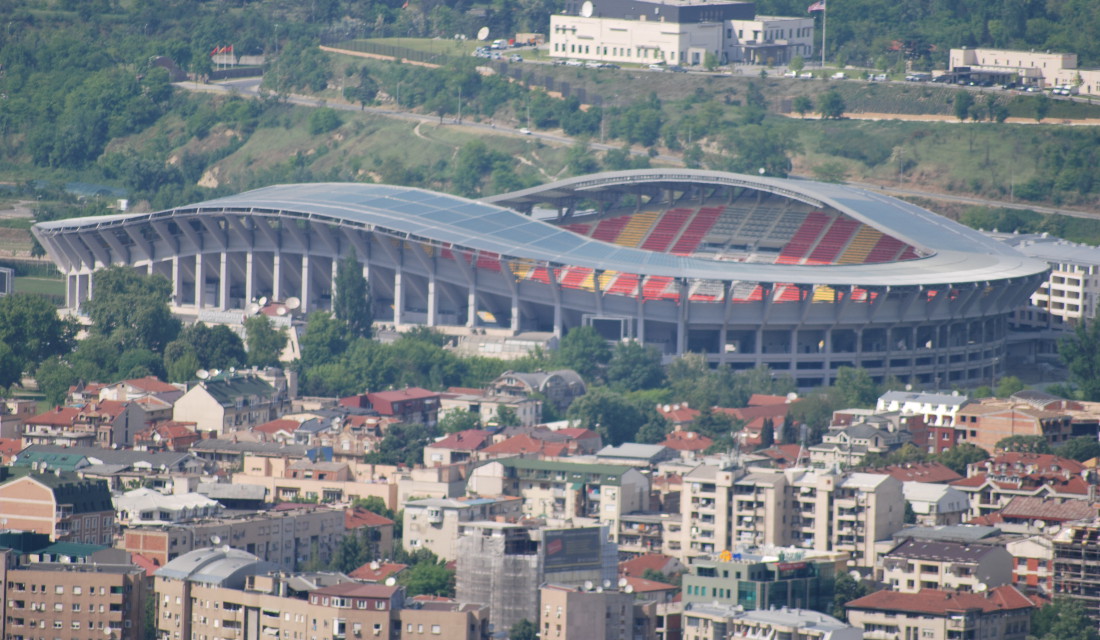 Key facts
Club: FK Vardar & FK Rabotnicki | Opening: 1947 | Capacity: 33,460 seats
History and description
National Arena Philip II, recently renamed Telekom Arena and previously called Stadion Gradski Skopje, was built in 1947. The stadium back then was a simple bowl-shaped uncovered stadium.
The stadium underwent its first major change when in 1978 a new covered South Stand was built, but the biggest changes were made between 2008 and 2013 when the stadium got almost entirely rebuilt.
Works started with the construction of a new North Stand, continued with the two stands behind the goals, and finished with a refurbishment of the South Stand, the athletics track, and the facade.
In 2016, the stadium changed name to Telekom Arena following a naming rights sponsorship deal.
The National Arena Philip II is the standard playing venue of the Macedonian national team. It has been selected to host the 2017 European Super Cup match.
How to get to the National Arena Philip II
The National Arena Philip II is centrally located just north-west of Skopje's city centre. It is an approximate 15 minutes walk to the stadium from the central Macedonia Square. Skopje's main railway station, located on the other side of the centre, is a little further away.
Address: Aminta the third, Skopje 1000
Eat, drink, and sleep near National Arena Philip II
The National Arena Philip II is located in a leafy area along the Vardar River. It is surrounded by parks, other sports facilities, quiet residential neighbourhoods, government buildings, and the local zoo.
The trendy and charming Debar Maalo neighbourhood is just a few blocks away. It is packed with cafes, bars, and restaurants and the perfect place to catch something to eat and drink before or after the match. Of course, Skopje's city centre is only a short walk away as well.
Due to its central location there are a fair few hotels near the National Arena Philip II. Park Hotel & Spa lies right between the stadium and river and gets excellent reviews, while Hotel Tomce Sofka, City Park Hotel, and Hotel Residence Inn are some well-rated options within a few blocks of the stadium too.
Click here for an overview of hotels near National Arena Philip II, and here to explore more options in Skopje.
Vardar & Rabotnicki Tickets
Tickets for Vardar and Rabotnicki matches can be bought at the stadium before the start of the match. Neither club ever sells out at the National Arena Philip II.
Macedonia National Team Tickets
Tickets for games of the Macedonia national team can be bought online through mktickets.mk or karti.com.mk, or through any of the MK Tickets authorised sales points.
Sales points include the Neptun electronics stores at the National Arena and Skopje City Mall, and the Jugoton store at the GTC mall in the city centre.
Photos of the National Arena Philip II
Relevant Internet links
Fkvardar.mk – Official website of FK Vardar.
Fkrabotnicki.com – Official website of FK Rabotnicki.
Exploringmacedonia.com – Skopje tourism information.