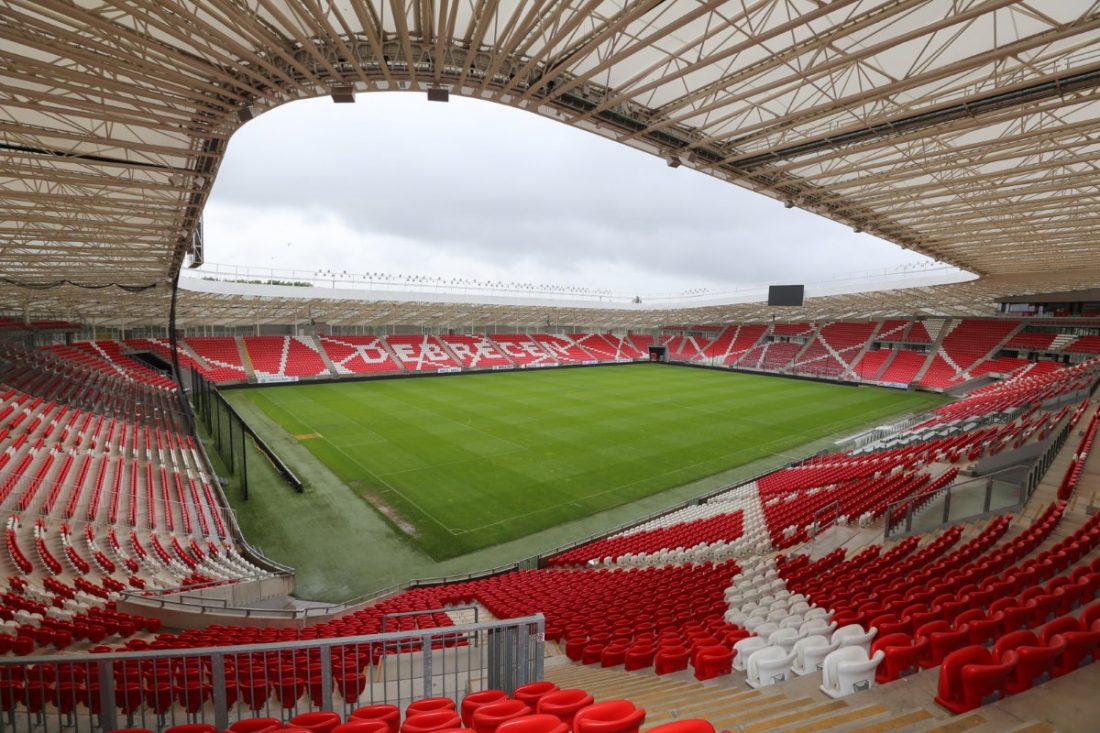 Key facts
Club: Debreceni VSC | Opening: 2014 | Capacity: 20,340 seats
History and description
Nagyerdei Stadion got built to replace the old Nagyerdei Stadion, which had served as the home of Debreceni since 1934.
Plans for the new stadium received planning approval in January 2013 and building works started immediately after. Nagyerdei Stadion was completed 15 months later and opened with a ceremony on 1 May 2014.
The first match at Nagyerdei Stadion got played on 10 May 2014 when Debrecen received Ujpest in a Hungarian league match.
The stadium has hosted various games of the Hungary national team.
How to get to Nagyerdei Stadium
Nagyerdei Stadion is located in the north of Debrecen at about 2.5 kilometres from its city centre and 4 kilometres from the train station. The walk from the centre to the stadium takes about 30 minutes.
You can furthermore take tram 1 to get to the stadium, which runs from both the railway station and city centre.
Address: Nagyerdei Park 12, 4032 Debrecen
Eat, drink, and sleep near Nagyerdei Stadion
Nagyerdei Stadion is located in Nagyerdei Park, which, apart from the stadium, also contains a zoo and swimming pool. It is a pleasant area, especially on a summer's day. The adjacent neighbourhood is quiet with few options for eating and drinking, which is best done in Debrecen's city centre.
There are various hotels in and around Nagyerdei Park with Villa Hotel and Hotel Divinus being the best-rated. Otherwise there are a few alternatives in and around Debrecen's city centre as well. Click here for an overview of hotels in Debrecen.
Debreceni Tickets
Tickets for Debreceni matches can be bought online, or in person at the ticket office at the stadium.
Tickets typically cost between Fl 1,500 and Fl 3,500. Email jegy@nagyerdeistadion.hu for more information.
Photos of Nagyerdei Stadion
Photo credits: Thaler Tamas
Useful Internet links
Dvsc.hu – Official website of Debrecen VSC.
Nagyerdeistadion.hu – Official website of Nagyerdei Stadion.
Dkv.hu – Debrecen public transport information.