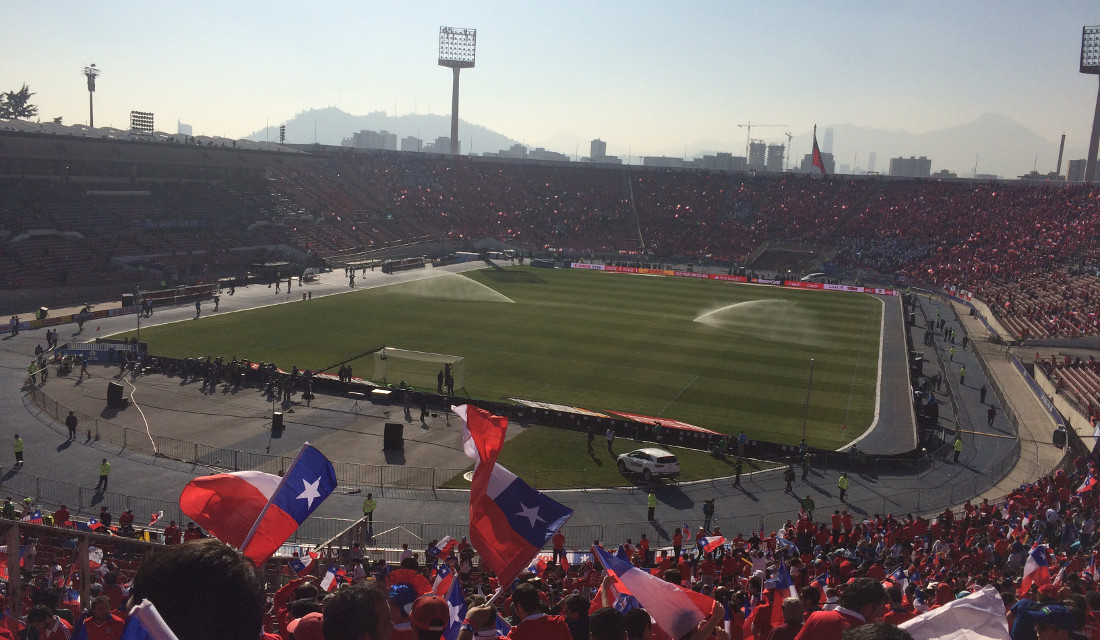 Key facts
Club: Club Universidad de Chile | Opening: 1938 | Capacity: 48,665 seats
History and description
Estadio Nacional de Chile, officially called Estadio Nacional Julio Martínez Prádanos, officially opened on 3 December 1938 with a friendly match between Colo Colo and Brazilian side Sao Christovao (6-2).
In 1955, the stadium was the site of a stadium disaster when 9 people died in a stampede during an international between Chile and Argentina.
Estadio Nacional got remodelled and expanded in the early 1960s in preparation for the 1962 World Cup, for which the stadium would serve as the centrepiece.
During the World Cup, the stadium hosted all matches in Chile's group 2, one quarter-final, the semi-final between Brazil and Chile (4-2), the match for third place, and the final between Brazil and Czechoslovakia (3-1).
Few changes were made to the stadium in the decades following until the stadium underwent a major renovation in 2009. This renovation included the replacement of all seats and an upgrade of various facilities.
Initially, it was also planned to install a roof, but this was postponed after an earthquake struck the country eary 2010. The remodelled stadium officially reopened in September 2010.
Estadio Nacional de Chile is owned by the municipality of Nunoa, and is used for most home matches of the Chilean national team.
It also gets used by Club Universidad de Chile for most of their home matches, though the club has the intention to build a new club-owned stadium in the upcoming years.
(photos of the present Estadio Nacional de Chile below)
How to get to Estadio Nacional
Estadio Nacional is located in the Ñuñoa area at about 5 kilometres south-east of Santiago de Chile's historic centre (Centro). The stadium lies about 4 kilometres south of Santiago's well-off Providencia area.
Metro station Nuble lies a 15-minute walk away from the stadium. You can reach Nuble station with the green line L5 from the city centre. Take the metro in the direction of Vicente Valdes. If coming from the Providencia area, a change from the red L1 to the green L5 at station Baquedano is necessary.
From Providencia it will in fact be quicker to catch a bus to the stadium. Line 103, 114, 117 and 515 will take you from metro station Pedro de Valdivia (or metro Manuel Montt) directly to the stadium (stop Estadio Nacional). Line 106 and 126 also connect metro Manuel Montt with the stadium.
You can furthermore catch bus 510 from metro station Los Heroes in the centre, or, even better, line 508, which crosses right through the city centre over Merced. Bus 515 can be caught from metro Bellas Artes. All buses pass directly by the stadium.
Address: Avenida Grecia 2001, Ñuñoa, Santiago
Eat, drink, and sleep near Estadio Nacional
Estadio Nacional is part of a larger sports complex that is located in a rather quiet residential neighbourhood with little entertainment around. While there is the odd local bar or restaurant around, eating and drinking is better done in Santiago's centre or Providencia area.
There is neither much choice if it comes to sleeping, though both Casa Muriel and Hostel Friendly are (just) at walking distance. Click here for an overview of hotels near Estadio Nacional.
If you have a little more time to spare though, it might be a better idea to find a hotel in the centre or Providencia.
Universidad de Chile Tickets
Tickets for Universidad de Chile games can be bought online through Puntoticket, or in person at any of the Puntotickets sales outlets, which include the Cinemark cinemas and Ripley stores.
Other arrangements differ depending on the match. At times it will be possible to get tickets on the day at Estadio Nacional, but this is not always the case.
Ticket prices may vary somewhat depending on the occasion, but typically range between CH$ 6,000 for a seat behind the goal and CH$ 35,000 for the best seats at the main stand. Prices will go up for high-profile matches though.
Since U de Chile does not own Estadio Nacional, they may at times play a home match at a different stadium when Estadio Nacional is occupied or for other reasons.
Photos of Estadio Nacional
Relevant Internet links
Udechile.cl – Official website of Club Universidad de Chile.
Chile.travel – The Santiago section of the official Chilean tourism website.
Metro.cl – Information about the Santiago metro.
Transantiago.cl – Santiago public transport information.