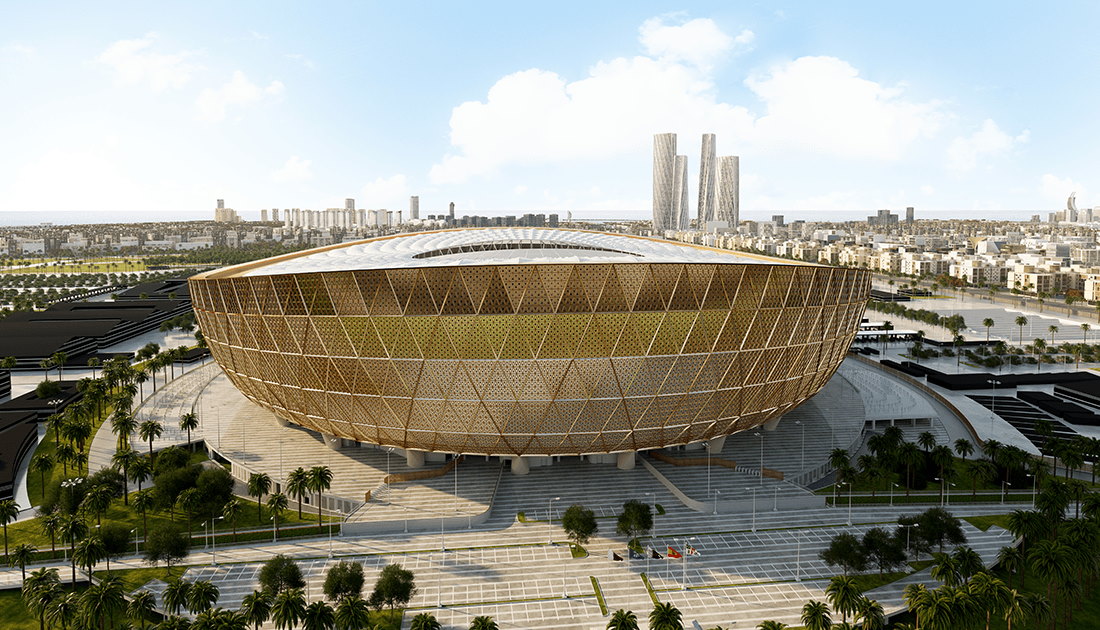 Key facts
Club: none | Opening: 2022 | Capacity: 80,000 seats
History and description
Lusail Stadium, also known as Lusail Iconic Stadium, is a newly built stadium which will serve as the flagship venue of the 2022 World Cup in Qatar.
The stadium formed part of Qatar's World Cup plans as early as 2010 when the bid was first considered. Following the decision to award Qatar the World Cup, a tender process was started for the actual design of the stadium, however many designs proved unsatisfactory to the organising committee.
In the end, the committee chose a bowl-shaped design inspired by art pieces found across the Arab world.
Construction of the stadium started in 2017 and it took four years for the stadium to be completed, slightly longer than planned. The official opening of the stadium is planned for 2022.
During the 2022 World Cup, Lusail Stadium will host six first round group matches and a match in every knock-out round including a semi-final and the final.
Following the World Cup, large parts of the stadium will be dismantled and the smaller ground will become part of a community space including shops, leisure, and sports facilities.
How to get to Lusail Stadium
Lusail Stadium is the centerpiece of the new Lusail City development on the northern edge of Doha on the Persian Gulf coast, roughly 20 kilometres from central Doha and 9 kilometres from The Pearl.
Lusail City will be a mixed self-contained development of residences, commerce, and retail in which ultimately 200,000 inhabitants are expected to live.
The red metro line connects Lusail City with central Doha and Hamad International Airport. Lusail QNB Station, the last on the line, lies right next to the stadium. A tram system connects the stadium with other parts of Lusail.
Eat, drink, and sleep near Lusail Stadium
Lusail Stadium is part of a large new development not far from the coast of the Persian Gulf coast called Lusail City. The area is still a large construction site but this is changing by the month as more and more buildings are being completed.
More cafes and restaurants are also expected to pop up in the area soon, but at the moment not much is around yet.
There are neither many hotels yet in the area, though these are likely to pop up soon since it's planned to be an upscale area. Right now, there are two hotels in Lusail: Cielo Hotel Lusail and Staybridge Suites. From both you can get to the stadium by tram. Click here to see all hotels in Lusail.
Alternatively, get one of the (admittedly expensive) hotels near The Pearl and metro station Legtaifiya. It's just a few metro stops from there to the stadium.
Of course, since Lusail Stadium is right next to the metro, pretty any hotel in Doha that is near a metro station will do as it's a quick journey to the stadium. Click here to explore options in Doha.
Photos of Lusail Stadium
Useful websites
Visitqatar.qa – Qatar tourist information.