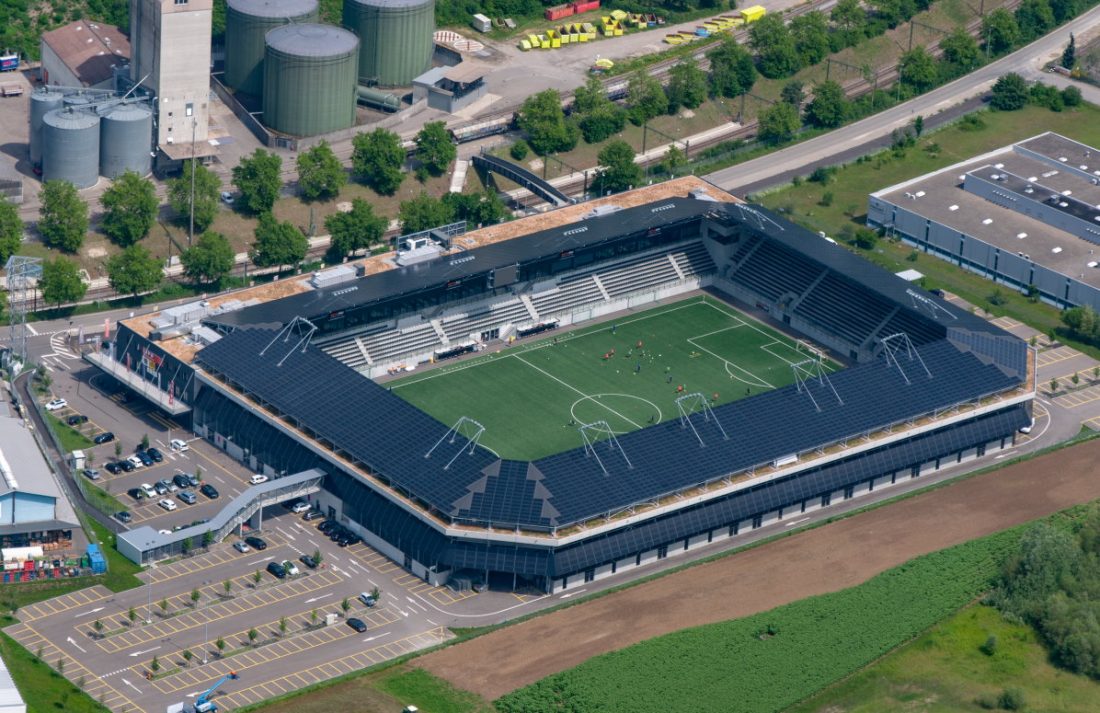 Key facts
Club: FC Schaffhausen | Opening: 2017 | Capacity: 8,200 seats
History and description
LIPO Park Schaffhausen got built to provide Schaffhausen with a modern replacement for their Stadion Breite, which had been the home of the club since 1950, but lacked any modern facilities.
First plans for the stadium were made as early as 2004 and a first planning application was submitted in 2008. However, in the next years plan underwent multiple revisions and it took until August 2015 for construction works to begin.
LIPO Park officially opened 1.5 years later on 25 February 2017 with a match between Schaffhausen and Winterthur.
The stadium's roof is entirely covered with solar panels.
How to get to Lipo Park
LIPO Park is located on a retail park in the north of the town of Schaffhausen at about 3.5 kilometres from its historic town centre and main railway station.
The stadium lies a few minutes' walk away from train station Herblingen. There is a frequent regional train (S-Bahn) connection from Schaffhausen main railway station to Thayngen or Singen in Germany that stops at Herblingen. The journey from the main railway station takes just under 10 minutes.
Schaffhausen in turn has frequent quick direct train connections with Zurich (40 minutes). Some of the (slower) regional trains continue to Herblingen but with quicker connections a transfer at Schaffhausen main station is required.
LIPO Park is furthermore easily reached by car, lying just off the motorway that connects Zurich in the south with Stuttgart in the north. There is plenty of (paid) parking next to the stadium and in the immediate surroundings.
Address: Industriestrasse 2a, 8207 Schaffhausen
Schaffhausen Tickets
Tickets for Schaffhausen games can be bought online at the official website or through Starticket, or in person at the club office at the stadium or at one of the other sales outlets including the Coop City and tourist office (Schaffhauserland Tourismus) in Schaffhausen's town centre.
Tickets are also available at the ticket windows of the stadium on the day from 90 minutes before the start of the match. Schaffhausen doesn't normally sell out.
Expect to pay from CHF 15.00 for a seat behind the goal to CHF 40.00 for a seat at the main stand. A seat at the other side costs CHF 25.00.
Photos of Lipo Park
Useful Internet links
Fcschaffhausen.ch – Official website of FC Schaffhausen.
Stadionschaffhausen.ch – Official website of LIPO Park Schaffhausen.
Schaffhauserland.ch – Schaffhausen tourist information.