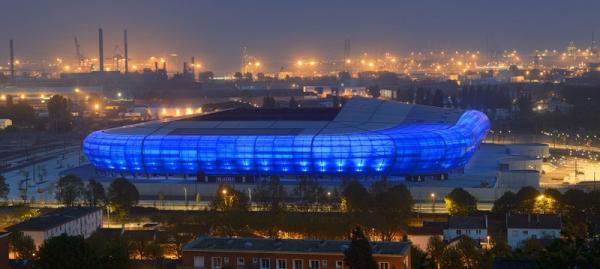 It is summer break, which is traditionally the period of the year when several clubs schedule to open a new stadium. After all, starting the season in a fresh new stadium surely beats opening your shiny arena on a dark autumn day in November.
While we've already had some new stadium openings on the North-American continent, yesterday celebrated the first opening of a new stadium in Europe. The one to kick off was Le Havre, which opened the splendid Stade Océane.
Stade Océane surely comes under the category of stadiums that attract your attention. Most of all because of its blue exterior and roof that light up spectacularly at night. But also from the inside there is nothing to complain about. Fully enclosed, two-tiered stands, bright blue seats, and little distance between the crowd and the players.
Stade Océane opened last night with a match between the home side Havre Athletic Club and Lille, won 1-2 by the guests. The guests were initially planned to be Rangers FC, but the club's troubles at home prevented a trip to the Northwest of France.
The new stadium got built just a few hundred metres away from Le Havre's old ground Stade Jules Deschaseaux. It has a capacity of 25,000 seats, which is 9,000 more than the old ground.
Unfortunately, Stade Océane will not see the likes of Marseille and Paris-SG visit this season as Le Havre currently plays in Ligue 2. That said, they only just escaped relegation last season, so the club and city will most of all be relieved not to have to play the stadium's inaugural season in France's lower leagues.
Some photos of last night here at HAC's official website. Some photos of the empty stadium here at Le Havre Tourisme's Flickr account.
© Photo above: Wikipedia user LG96.