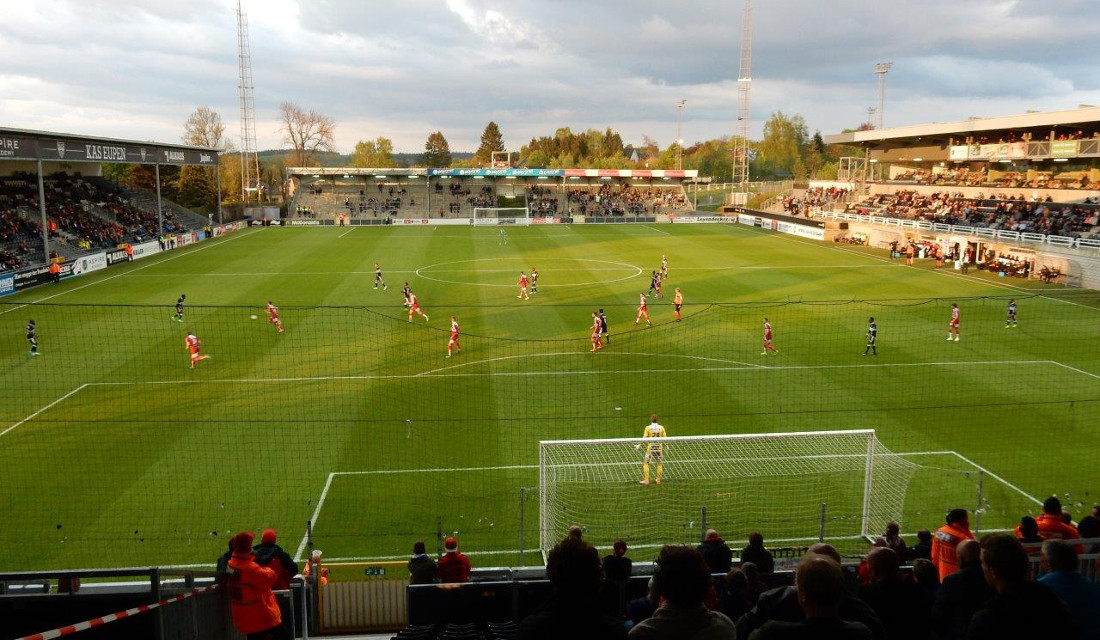 Key facts
Club: KAS Eupen | Opening: 1947 | Capacity: 8,363 (2,760 standing)
History and description
Kehrweg-Stadion opened in 1947 when a new main stand was built, but football had been played at the site for various decades.
The stadium got further expanded with terraces in 1974, but remained a rather simple affair with a capacity of 10,000.
In 1994, a small new main stand with some hospitality facilities opened to complement the terraces on the other sides, but this did not meet Belgian's top league requirements when the club promoted in 2010.
Eupen therefore embarked on a large redevelopment project including the construction of new all-seater stand, raising capacity from 6,000 to 8,000 places.
How to get to Kehrweg-Stadion
Kehrweg-Stadion is located in the south of the small town of Eupen at less than a kilometre from the town centre and a few hundred metres more from Eupen's rail station.
It's less than a 20-minute walk from the rail station and the town centre to the stadium.
Frequent direct trains connect Eupen with Liege-Guillemins rail station. Trains run at least once an hour for the 40-minute journey.
Address: Kehrweg 14, 4700 Eupen
Eupen Tickets
Tickets for Eupen games can be bought in advance at the ticket office at Kehrweg-Stadion, or on the day at the ticket windows of the stadium. Eupen rarely sell out.
Tickets range in price from €15.00 to €30.00, while standing costs €12.00.
Email ticketing@as-eupen.be for more information.
Photos of Kehrweg-Stadion
Useful websites
As-eupen.be – Official website of KAS Eupen.
Eupen.be – Eupen tourist information.