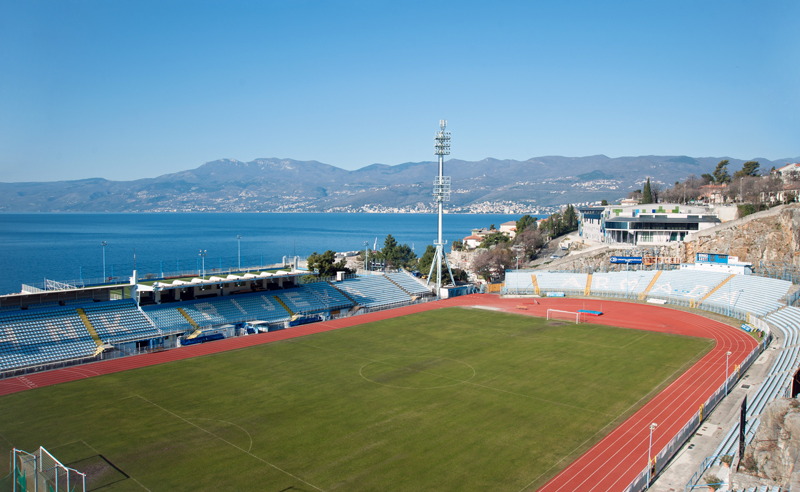 Key facts
Club: HNK Rijeka | Opening: 1912 | Capacity: 10,600 seats
History and description
Stadion Kantrida officially opened on the 1st of June 1912 with a friendly between Victorije and Građanskog. The site of the stadium was earlier used as a stone quarry.
The stadium became the home of Rijeka in 1946, and got extensively renovated in the 1950s. At that time, it could hold about 25,000 spectators.
Stadion Kantrida received a last refurbishment in 2010, but soon after started exploring the possibilities to build an entire new stadium in its place.
In 2013, Rijeka announced concrete plans for a new modern covered stadium with a capacity of 14,000 seats. Works finally started in 2017, and Rijeka currently play their home matches at Stadion Rujevica, which is normally their training ground.
How to get to Stadion Kantrida
Stadion Kantrida is located right on the Adriatic coast toward the west of the city of Rijeka. It lies just under 5 kilometres from Rijeka's historic city centre and rail station.
From the centre one can reach the stadium by following Krešimirova Ul. (which runs in front of the station) west. The stadium will lie down near the coast on the left side of the road.
If coming from the A7 motorway (which runs north of the city), take exit 5, and follow the D304 toward the city. After almost 3 kilometres make a sharp right onto Liburnijska Ul. and follow until you see the floodlights on your left.
The stadium can be reached from Rijeka's historic centre with bus 1.
Address: Portić 3, 51000 Rijeka
Eat, drink, and sleep near Stadion Kantrida
Stadion Kantrida is one of the most picturesquely located stadiums in the world, though while right along the Adriatic coast and even boasting an adjacent beach, it is not in one of the most lively areas of Rijeka. While one can find a local drink, eating and drinking is best done in Rijeka's pleasant historic centre.
There are no hotels near Stadion Kantrida, but there are some options to rent an apartment in the area such as Apartment Mira and Apartments Skoljka. Otherwise there is a good selection of hotels in and around Rijeka's historic centre.
Rijeka Tickets
Rijeka currently play their home matches at Stadion Rujevica while Stadion Kantrida is getting rebuilt.
Tickets for Rijeka matches can be bought online, or at the club office at Stadion Rujevica. Tickets are also available on the gate from two hours before the start of the match.
Ticket prices for a regular match range from HRK 85.00 to HRK 300.00. Prices are increased to between HRK 100.00 and HRK 350.00 for a few high-profile matches.
For more information call +385 (0) 51 612 044.
Photos of Stadion Kantrida
Relevant Internet links
Nk-rijeka.hr – Official website of HNK Rijeka.
Rijeka.hr– Rijeka tourism information.