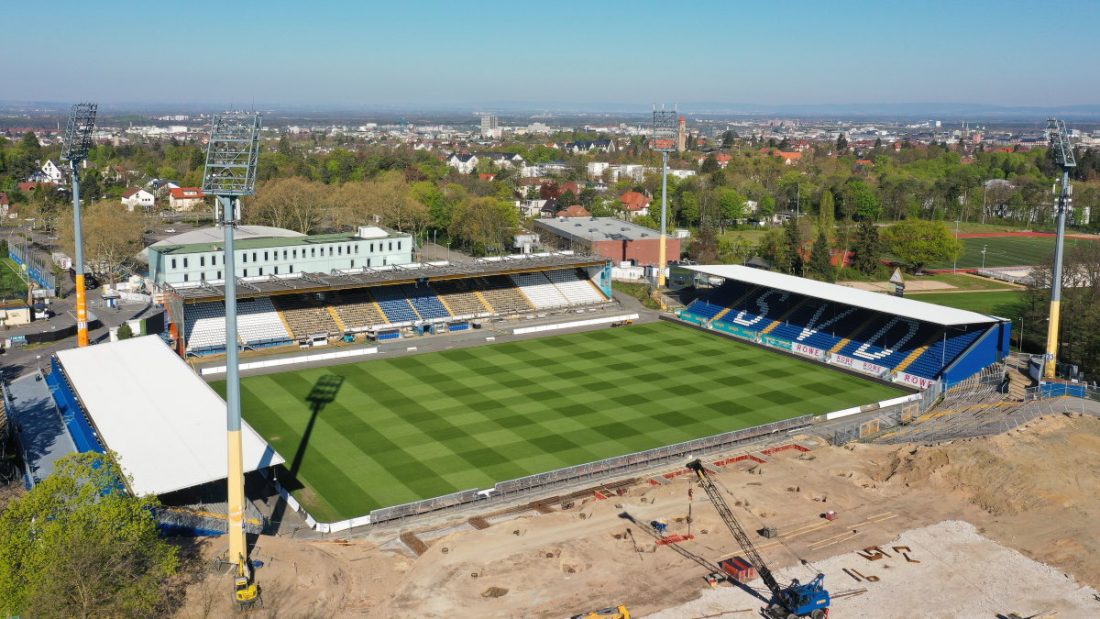 Key facts
Club: SV Darmstadt 98 | Opening: 1921 | Capacity: 17,400 (10,700 standing)
History and description
Merck-Stadion am Böllenfalltor, initially called simply Stadion am Böllenfalltor, got built between 1919 and 1921, and opened on 24 July 1921 with a friendly between Darmstadt and Freiburger FC (4-1).
The stadium could initially hold a modest 8,000 spectators, but an expansion in the early 1950s increased this to 25,000. The stadium underwent the next significant changes in the mid-1970s when first in 1975 a new main stand got built, followed a year later by a new stand on the opposite side. This boosted capacity to its maximum of 30,000 places.
Following a redevelopment in 2011 resulting from the need to comply with safety requirements, capacity decreased again to 16,500. Smaller renovations following promotion of the club to the Bundesliga in 2016, including the erection of basic tubular bleachers behind the goals, added a new 1,000 places to capacity again.
However, the stadium still lacked modern facilities and the city of Darmstadt therefore decided to rebuild Stadion am Böllenfalltor into a modern arena with a projected capacity of about 20,000 spectators.
In 2018, the large terrace on the side opposite the main stand got demolished and works on a new stand began, which were completed in 2020. The main stand is next to be demolished and replaced with a new stand. 
(Stadion am Böllenfalltor in 2014)
How to get to Stadion am Böllenfalltor
Stadion am Böllenfalltor is located in the south-east of Darmstadt, roughly 2 kilometres from the city centre and a little under 4 kilometres from the main railway station, which lies further west.
The walk from the city centre should take less than 30 minutes. Alternatively, you can take either tram 2 or 9 from the Luisenplatz. Take the tram towards Bollenfalltor and get off at stop Merck-Stadion. Tram 2 also runs from the main railway station.
If coming in by train from Frankfurt Hauptbahhof, it is also possible to take a direct train to Darmstadt TU-Lichtwiese station and walk 15 minutes to the stadium. However, service is infrequent during the week and no direct trains run on the weekend (transfer at Frankfurt Sudbahnhof or Darmstadt Hauptbahnhof).
Address: Nieder-Ramstädter Str. 170, 64285 Darmstadt
Darmstadt 98 Tickets
Tickets for Darmstadt games can be bought online, in person at the SV98 Ticketshop at Stadion am Bollenfalltor, or at one of the other sales points, including the Lotterieannahme SKL Feisel on the Luisenplatz in the city centre.
Darmstadt's attendances have shot up since they promoted to the Bundesliga, and they are expected to still regularly sell out now that they're back in the 2. Bundesliga. However for most matches tickets will be easily available if bought in advance.
Seats cost either €33.00 for the main stand or €25.00 for the North Stand behind the goal, while a standing place costs either €13.00 or €15.00.
You can find a seating plan here.
Relevant Internet links
Sv98.de – Official website of SV Darmstadt 98.
Darmstadt-tourismus.de – Darmstadt tourist information.
Rmv.de – Darmstadt public transport information.
Photo credits: Twine333