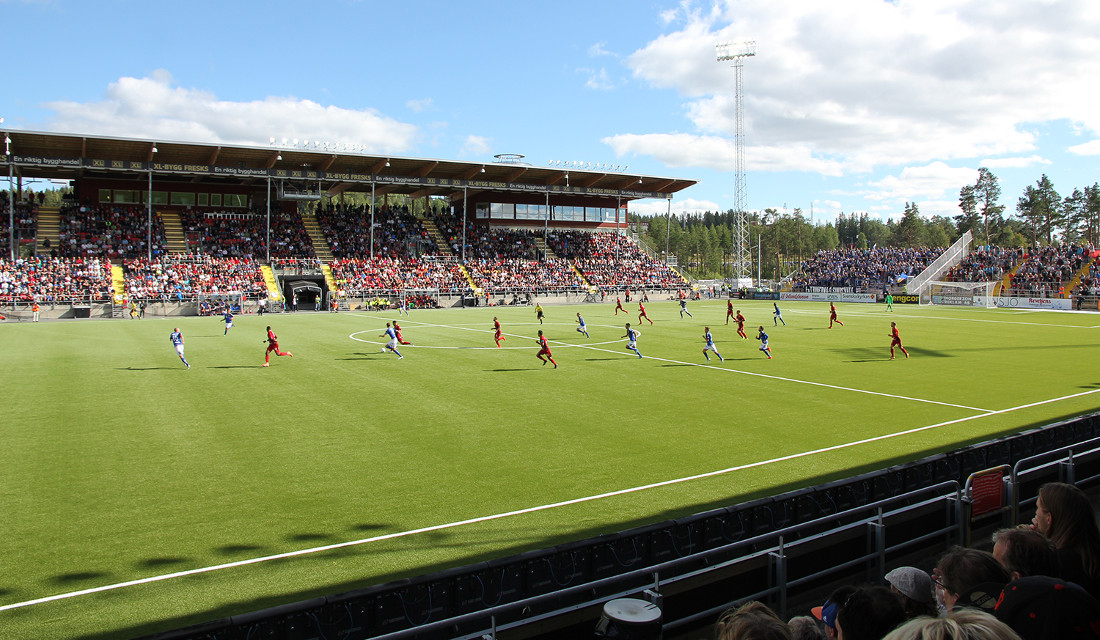 Key facts
Club: Ostersunds FK | Opening: 2007 | Capacity: 8,466 (3,368 standing)
History and description
The Jamtkraft Arena was built in 2007 to provide Ostersunds FK with a new home. It was part of a larger development that also included a new ice hockey and entertainment arena.
The Jamtkraft Arena officially opened on 13 July 2017 with a friendly between OFK and Swansea City.
The stadium initially consisted of three stands, leaving one end open, but in 2016 an extra terrace got built when OFK promoted to Sweden's top division, which added 2,000 places to capacity.
How to get to the Jamtkraft Arena
The Jamtkraft Arena is located on the northern edge of the town of Ostersund at just over 2 kilometres from Ostersund's town centre. Ostersund's main railway station lies a kilometre further away just south of the town centre.
The walk from city hall in Ostersund's centre takes about 30 minutes. On matchdays, a special service of line 14 runs to the stadium. Buses depart from the bus station in Ostersund's centre at 60 minutes and 40 minutes before the start of the game.
On non-matchdays, bus 6, 8, or 14 can get you to the stadium, but service is limited, in particular in the evenings and on the weekends.
Ostersund lies about 550 kilometres north of Stockholm. There are one or two direct trains a day that connect Ostersund with Stockholm, but there are more options with a change in Sundsvall. The journey from Stockholm takes 5 to 6 hours, that from Sundsvall about 2.5 hours.
Ostersund's airport lies about 10 kilometres west of the town centre. It has a few direct flights a day to Stockholm.
Address: Arenavägen 23, 831 32 Östersund
Eat, drink, and sleep near the Jamtkraft Arena
The Jamtkraft Arena is located on a quiet office park on the edge of the city. Ostersund's ice hockey arena and ski stadium are on the same park.
The nearby Arctura tower has a skybar and restaurant with some nice views, but overall it's a rather unappealing area with little around in terms of eating and drinking, which is better done in the town centre of Ostersund.
There are no hotels directly near the Jamtkraft Arena, but a few good options to choose from in Ostersund's town centre. Click here for an overview of hotels in Ostersund.
Ostersunds FK Tickets
Tickets for Ostersunds tickets can be bought online, at the OFK club shop at Prästgatan 50 A in Ostersund's centre, or at the Visit Ostersund tourist information at Radhusgatan 44 in the city centre.
Tickets can also be bought at the ticket booths of the Jamtkraft Arena from two hours before the start of the match.
Expect to pay either SEK 260.00 or SEK 300.00 for a covered seat at one of the sides or SEK 150.00 for a ticket for the uncovered terraces behind the goal.
Tickets cost SEK 50.00 more for a few high-profile games (seating only), and are SEK 40.00 more expensive if bought on the day of the match.
Email biljett@ostersundsfk.se for more information.
Photos of the Jamtkraft Arena
Relevant Internet links
Ostersundsfk.se – Official website of Ostersunds FK.
Visitostersund.com – Ostersund tourism information.