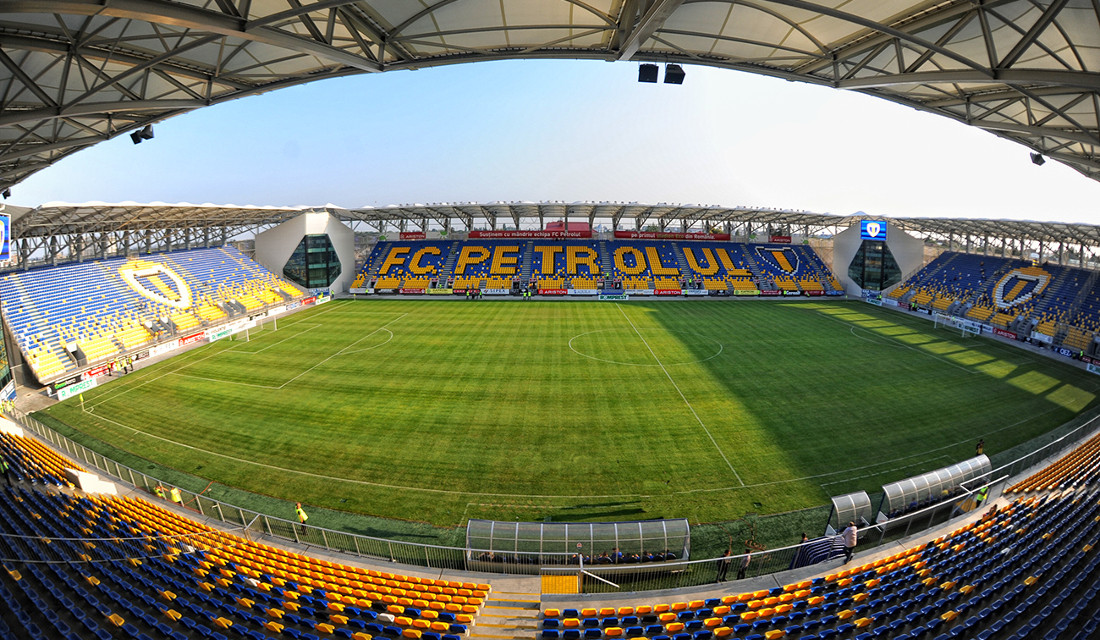 Key facts
Club: FC Petrolul Ploiesti & Juventus Bucuresti | Opening: 2011 | Capacity: 15,500 seats
History and description
Stadionul Ilie Oană got built in the place of Petrolul's old stadium with the same name, which in turn had been built in 1937.
The old stadium got demolished in 2009, and two years later, on 23 September 2011 the new stadium officially opened with an exhibition match between former Petrolul players and former Romania internationals.
Stadionul Ilie Oana came at a cost of €17 million.
In 2017, Juventus Bucuresti decided to make the stadium their home following their promotion to Liga I.
How to get to Stadionul Ilie Oana
Stadionul Ilie Oană is located in central Ploiesti just east of the city centre. It can easily be walked to in a few minutes.
Very frequent trains run to Ploiesti from Bucharest Gara Nord station. The journey takes about 40 minutes. The trains stop either at Gara de Sud or Gara Vest train stations. Gara de Sud lies about 2 kilometres south of the centre, which means a 30-minute walk, though there are plenty of public transport options. Gara Vest lies further away, about 4 kilometres south-west, and a bus ride to the centre is therefore necessary.
If the walk from Gara de Sud is too much, you can also take tram 101 to get to the centre. Get off at stop Muzeul de Istorie. There are furthermore many buses that head in the direction of the centre.
There is also a tram service from Gara Vest (line 102), but it only connects with western parts of the city. You can get off at stop Restaurant Nord though, and then take tram 101 toward Gara de Sud.
The better option is to take a bus. Bus 2 (or 2b) runs directly to the centre, get off at stop Lic. Mihai Viteazul. Bus 4 is an alternative. Get off at stop Hale Catedrala. It is 5 to 10 minutes walking to the stadium from there.
Address: Str. Stadionului 26, Ploieşti
Petrolul Tickets
Tickets for Petrolul matches can be bought at the ticket office of Stadionul Ilie Oana, in advance and on the day of the match.
Ticket prices start at RON 10.00 for a seat behind the goal, and range up to between RON 20.00 and RON 50.00 for a seat at one of the sides.
Juventus Bucuresti Tickets
Tickets for Juventus Bucuresti games can be bought online through Eventim, or in person at Stadionul Ilie Oana, in advance or on the day of the match.
Photos of Stadionul Ilie Oana
Relevant Internet links
Fcpetrolul.ro – Official website of FC Petrolul Ploieşti.
Juventusbucuresti.ro – Official website of Juventus Bucuresti.
Rathp.ro – Ploieşti public transport information.