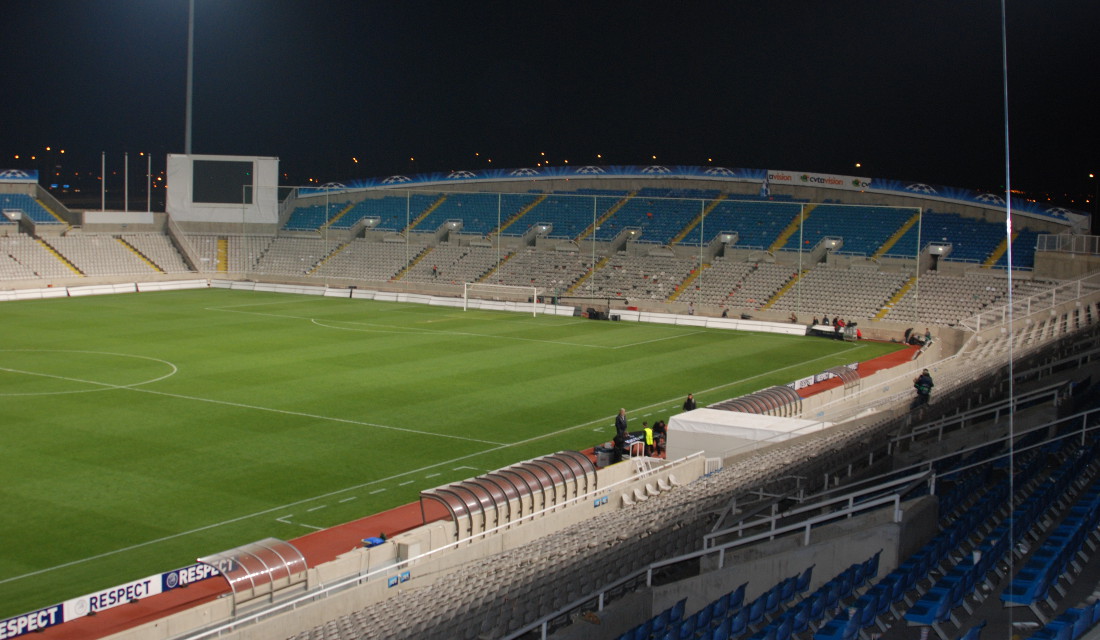 Key facts
Club: Apoel FC & AC Omonia | Opening: 1999 | Capacity: 22,859 seats
History and description
GSP Stadium officially opened on 6 October 1999 with a friendly match between Apoel and Omonia (3-3).
GSP Stadium is one of the few stadiums on Cyprus that fully complies with UEFA requirements, and is therefore also used by most other Cypriot teams for European matches. It is furthermore the home of the Cypriot national team.
In 2002, a number of Israeli clubs used the stadium for their European matches due to the problematic security situation in Israel at that time.
GSP Stadium is part of larger complex that includes other sports facilities. Its most characteristic feature is its wave-shaped roof that covers (part of) the main stand as well as the main stand of the adjacent athletics stadium.
How to get to GSP Stadium
GSP Stadium is located south of Nicosia at about 6.5 kilometres from the city centre.
The stadium lies adjacent to the A1 motorway, which runs from Nicosia to the south coast of the island. You will be able to see the stadium from the motorway and take the appropriate exit.
Address: Pangyprion Avenue, 1501 Nicosia
Eat, drink, and sleep near GSP Stadium
GSP Stadium is located just outside Nicosia and is bordered by a motorway, other sports facilities, and some scattered residential housing and light industry. There is little around the stadium in terms of eating and drinking, so there is not much reason to head to the game much in advance.
If you wish to stay close to GSP Stadium, then you don't get it any better than Allegra GSP Sports Center hotel, which is part of the GSP complex. There is furthermore a decent selection of hotels in the city centre of Nicosia, though most will prefer to stay in one of the popular tourist beach towns of Cyprus and rent a car to get to the game.
Larnaca is the closest beach location, but party town Ayia Napa, quieter Protaras, or cultural Paphos are all very much at driving distance as well.
Apoel Tickets
Tickets for Apoel FC games can be bought online, or at the fan shop at 4 Michalakopoulou Street in the city centre (a few hundred metres south of the old city wall).
Tickets can also be bought on the gate on the day of the match. Apart from a few high-profile European matches (and possibly the derby with Omonia), Apoel does not tend to sell out often.
Tickets cost €20.00. For more information email tickets@apoelfc.com.cy.
Omonia Tickets
Tickets for Omonia matches can be bought online, at the club shop (Green Boutique) at Athalassas Avenue 18b (about 2.5 kilometres south of the old city walls), or at the stadium on the day of the match.
As with Apoel, Omonoia may only sell out the derby or important European matches. Tickets cost €18.00.
Photos of GSP Stadium
Relevant Internet links
Apoelfc.com.cy – Official website of Apoel FC.
Omonoia.com.cy – Official website of AC Omonoia.
Olympiakos.com.cy – Official website of Olympiakos.
GSP.org.cy – Official website of the GSP Stadium.