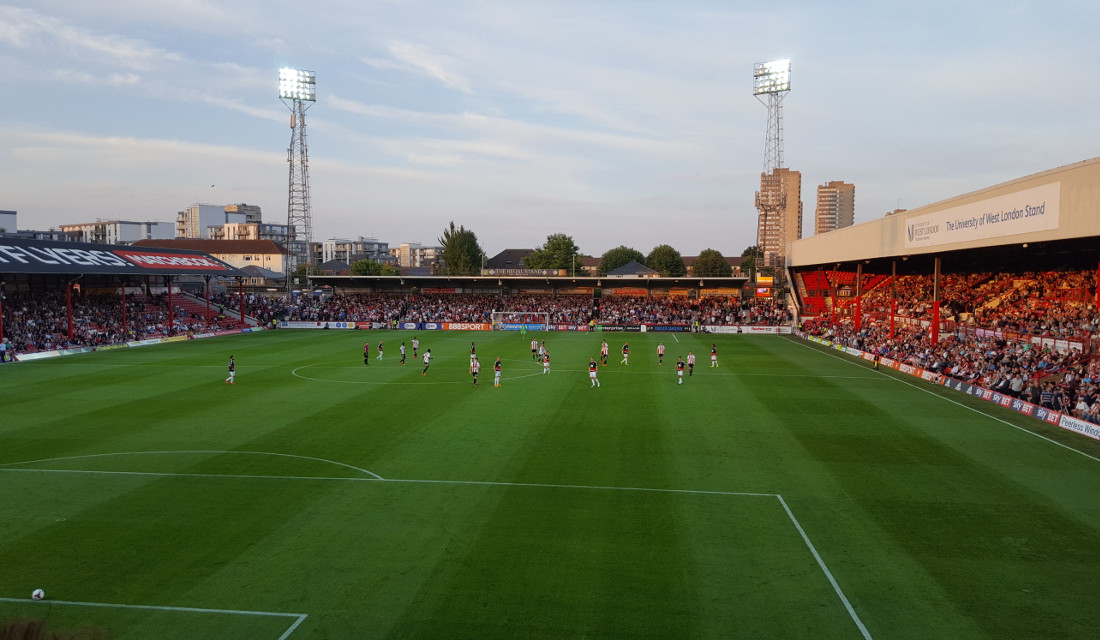 Key facts
Club: Brentford FC | Opening: 1904 | Capacity: 12,763 seats
History and description
Griffin Park was built in 1904, though initially consisted of nothing more than a small single stand. Previously, Brentford had played at five different locations before leasing the new site in the west of London. The first match at the ground was a league match between Brentford and Plymouth.
In the late 1920s, a new main stand was built, followed by further gradual improvements on the other stands in subsequent decades, but overall Griffin Park remained a rather modest affair.
The rise of Brentford to the Championship in 2014 made further improvements necessary, but significant expansions have remained impossible due to the stadium being enclosed by residential housing.
The club has therefore been working on building a brand new stadium, and in 2015 secured planning permission for a new 20,000 capacity ground at less than a mile east of Griffin Park. Preliminary works started in March 2017, and the club intends to move into their new home before the start of the 2017-18 season.
How to get to Griffin Park
Griffin Park is located in the west of London just north of the river Thames at roughly 7.5 miles from central London (Westminster).
The stadium is best reached by public transport, either by train or by tube depending on where you come from and how much you are willing to walk.
Brentford rail station lies a mere 5-minute walk from the stadium. Trains depart from Waterloo station in central London with the fastest service taking about 30 minutes. Trains depart every 15 minutes.
Alternatively, you can take the tube to South Ealing tube station, which is on the Piccadilly line. The journey from Leicester Square in central London takes about half an hour as well, but it is a further 20-minute walk from the tube station to the stadium.
One final alternative is taking the tube to Gunnersbury station, on the District line and Overground, from where it is a little under 30 minutes walking to the stadium. The journey from Victoria station on the district line takes roughly 25 minutes.
Address: Braemar Rd, Brentford, London TW8 0NT
Eat, drink, and sleep near Griffin Park
Griffin Park is located in a quiet residential neighbourhood tightly enclosed by terraced housing. It is famous for having a pub on each corner of the block of housing the stadium is situated in with more pubs scattered around the area towards South Ealing and the river Thames. There are various restaurants in the area as well, mostly south-west towards the river.
Griffin Park is less than a 30-minute walk away from Kew Gardens, London's famous botanical gardens, which lie just south of the Thames.
There are a few hotels near Griffin Park, mostly the typical mid-range chains. Just north of the stadium, along the M4 motorway, there are a Premier Inn and Novotel, which are particularly convenient if you are travelling in by car. Just south of the stadium there is another Premier Inn, and a little further west a Holiday Inn. Click here for an overview of hotels in Brentford near Griffin Park.
Of course, most will pick a hotel elsewhere in London and travel in by public transport.
Brentford Tickets
Tickets for Brentford games can be bought online, by phone +44 (0)845 3456 442, or in person at the ticket office at Griffin Park.
Tickets come in two pricing categories depending on the opponent, with Grade A tickets, the most expensive, going for either £25.00 (behind the goal or near the corner flag) or £30.00 (central long side). Tickets for the standing terrace cost £25.00. Tickets for Grade B games cost either £23.00 or £28.00.
Brentford do sell out the occasional home game, but tickets for nearly all games are easily available if bought in advance.
Email tickets@brentfordfc.co.uk or call +44 (0)845 3456 442 for more information.
Photos of Griffin Park
Relevant Internet links
Brentfordfc.co.uk – Official website of Brentford FC.
Visitlondon.com – Official London city guide.
Tfl.gov.uk – Website of the London Underground and other London public transport.
Journeyplanner.org – London public transport journey planner.
Nationalrail.co.uk – Check train times and fares.