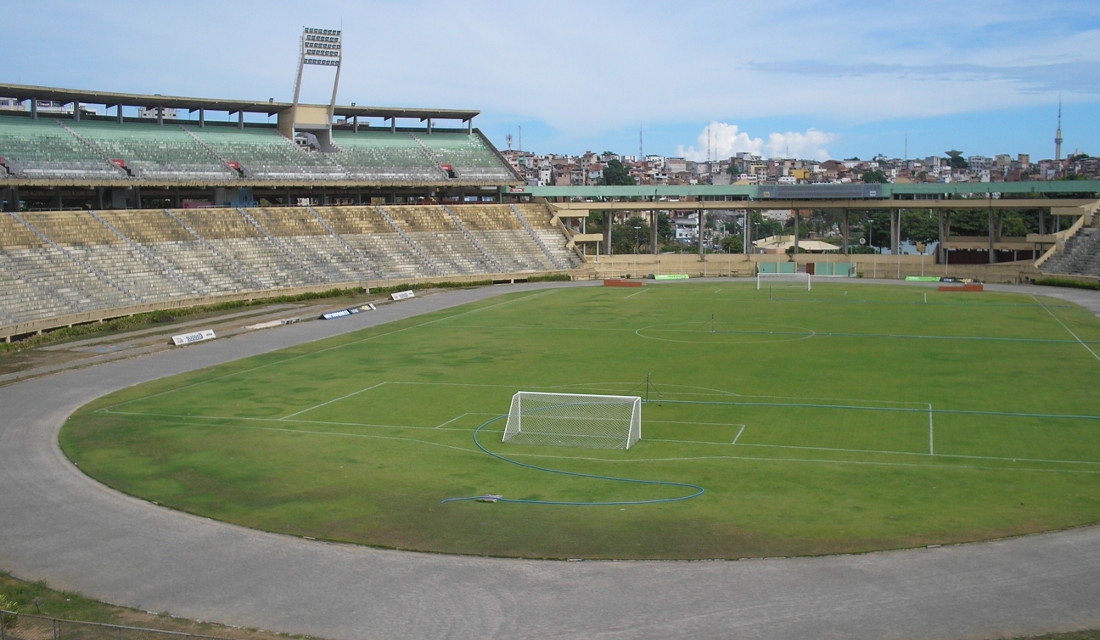 Key facts
Club: EC Bahia and EC Vitória | Opening: 1951 | Closing: 2010 | Final capacity: 60,000
History and description
Estádio Fonte Nova, officially called Estádio Otávio Mangabeira, was for over half a century the home of EC Bahia and EC Vitória.
Estádio Fonte Nova officially opened on the 28th of January 1951 with a mini tournament of 4 clubs. The first match was played between Botafogo and Guarany (1-0), and the tournament was won by Bahia.
Estádio Fonte Nova  initially only consisted of one tier, but in 1968 construction started of a second one. The stadium reopened on the 4th of May 1971 with a match between Bahia and Flamengo followed by one between Vitória and Grêmio. An official 94,972 people were in attendances, though the police estimated it were more than 112,000. Two people lost their lives during the chaotic scenes.
The official record attendance of 110,438 was set in 1989 when Flamengo visited the stadium. Five years later, in 1994, Vitória moved out of the Fonte Nova and made the Barradão their new home.
By the 2000s the state of the stadium had severely deteriorated and in 2007 seven fans lost their lives when part of the upper tier collapsed during a match between Bahia and Vila Nova. The stadium was subsequently closed by the state governor and never reopened.
Shortly after Brazil received the final nod to host the 2014 World Cup and the Bahia state government decided to tear the Fonte Nova down and replace it with a  new stadium.
Demolition of the stadium started in 2010 with the implosion of the upper tier. Construction of the new Arena Fonte Nova started late 2010 and is expected to be completed in December 2012.
In its final years Estádio Fonte Nova could hold just over 60,000 people. Bahia currently play their home matches at Estádio de Pituaçu.
Photos of Estadio Fonte Nova