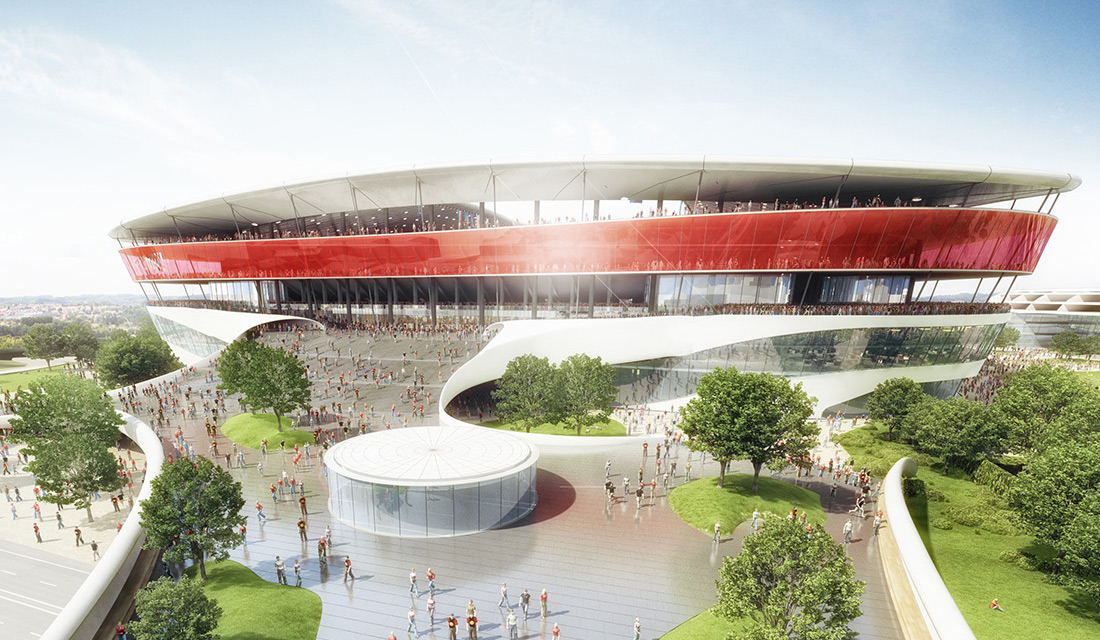 Key facts
Club: RSC Anderlecht | Capacity: 60,250 seats | Scheduled opening: 2019 | Status: in planning
Description
The Eurostadium, in Dutch also referred to as Eurostadion and in French as l'Eurostadium or Stade National, is the planned new national stadium of Belgium and potential new home of Anderlecht.
The stadium is the result of a long process of both the city of Brussels and local club Anderlecht to find a modern replacement for the Stade Roi Baudouin and Constant Vanden Stock Stadion. While both parties initially worked on their own projects, the club looking to enlarge their current home, in the end it turned out that a new national stadium without club was not viable, and the city therefore needed to bring Anderlecht into the project.
However, the club was less then enthusiastic to move to a home much too large for their typical crowds (and accompanying rental charges), with another complication being the need to include an athletics track for the Memorial van Damme athletics event.
For years, the different parties dropped in and out of the project, not being helped by the fragmented legislative environment of Belgium. However, by the end of 2015 agreement had been reached with most major parties and the project seemed to get the go-ahead.
The start of construction was initially planned for March 2016, but delays with an environmental impact assessment meant that this wasn't met. In 2017, Anderlecht threatened to pull out of the project, and a judge ruled that no building permit could be granted due to a road that had to get rerouted. The status of the project is therefore currently in doubt.
The stadium was scheduled to be completed by the summer of 2019. Completion in 2019 would be necessary to comply with UEFA deadlines in order to be able to host games at the Euro 2020 championships.
The Eurostadium will be designed by Jaspers-Eyers Architects and will have a capacity of 60,250 seats, of which roughly 10% will be dedicated to hospitality. Initial plans included a retractable roof, but this was axed due to cost considerations, as was a retractable seating system to accommodate for an athletics track, opting for a pure football configuration without track instead.
The stadium is planned to be built in the northern Brussels suburb of Grimbergen just north-west of the Stade Roi Baudouin on a site that presently hosts the parking lots of the old stadium.
During the 2020 European Championships, the Eurostadium will host three first round group matches and one round of 16 match. The city of Brussels also hopes to host the opening match of the tournament.
The Stade Roi Baudouin will likely get demolished following the completion of the Eurostadium, leaving the Memorial van Damme without venue.
No decision has been made yet what will be done with the Constant VandenStock Stadion after the Eurostadium has been completed, with local legislators currently studying the options.
Images of Eurostadium