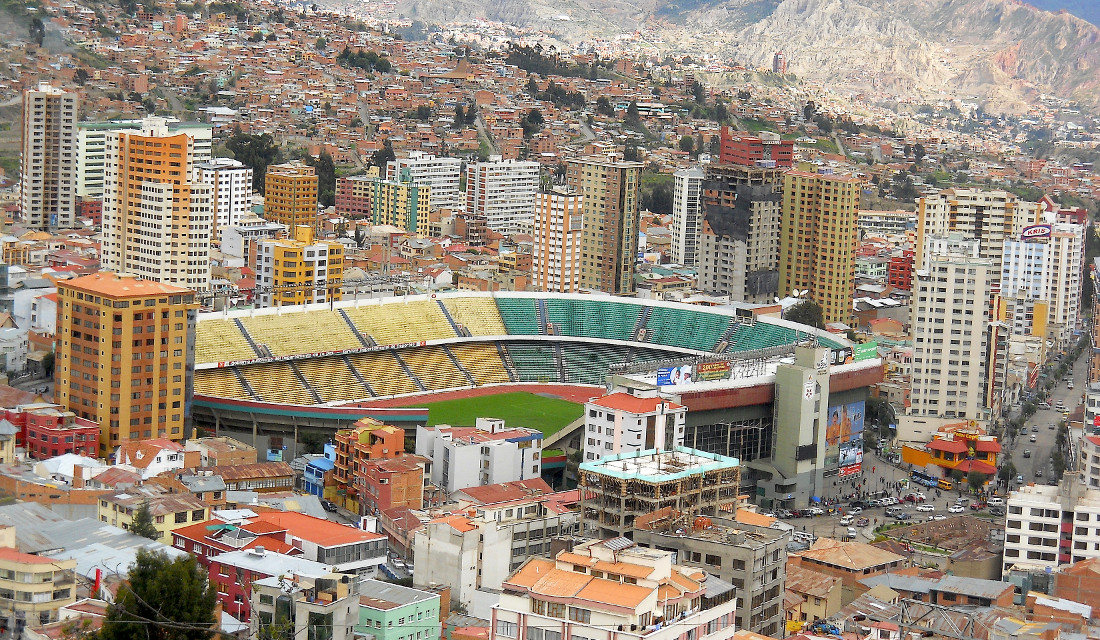 Key facts
Clubs: Club Bolivar & The Strongest  | Opening: 1930 | Capacity: 42,000 seats
History and description
Estadio Hernando Siles, also known as Estadio Olimpico La Paz, got built in the late 1920s to provide Bolivia with a proper football venue. The stadium opened in 1930 with a match between local La Paz teams The Strongest and Universitario (4-1).
The stadium got named after the president of Bolivia at that time, Hernando Siles, and could initially hold 25,000 spectators. It underwent a large expansion in 1977 when a second tier got built on top of the first one and an entire new main stand got built.
Estadio Hernando Siles is owned by the city of La Paz and any club is able to rent the stadium for their home matches. At the moment Bolivian top clubs Bolivar and The Strongest play their home games at the stadium, while other clubs may use it for their high-profile matches.
Estadio Hernando Siles is also the standard playing venue of the Bolivian national team. The stadium is located at an altitude of 3,600 metres, which opponents have argued gives Bolivia an unfair advantage. In 2007, FIFA banned World Cup qualifying games over an altitude of 3,000 metres, but dispensation was given to La Paz.
In recent years, the city of La Paz has contemplated extensively renovating the stadium or building an entire new one in its places, but it is unlikely that any decision will be made soon.
How to get to Estadio Hernando Siles
Estadio Hernando Siles is located in the Miraflores area in central La Paz. The stadium lies roughly 1.5 kilometres from the Plaza Mayor in La Paz's historic centre and a similar distance from the Sopocachi nightlife and restaurant area a little further south.
From most central areas the walk takes 30 minutes at most. If you're coming from further away, either take a taxi or inquire locally about appropriate bus routes.
Address: Estadio Hernando Siles, La Paz
Bolivia National Team Tickets
Tickets for games of the Bolivian national team can be bough online through Todotix or at the ticket windows of Estadio Hernando Siles in the days before the match.
Expect to pay from BS 60.00 for a seat behind the goal to BS 250.00 for the best seats at the main stand.
Photos of Estadio Hernando Siles
Relevant Internet links
Club-thestrongest.com – Official website of The Strongest.
Clubbolivar.com – Official website of Club Bolivar.