Estadio de los Juegos Mediterráneos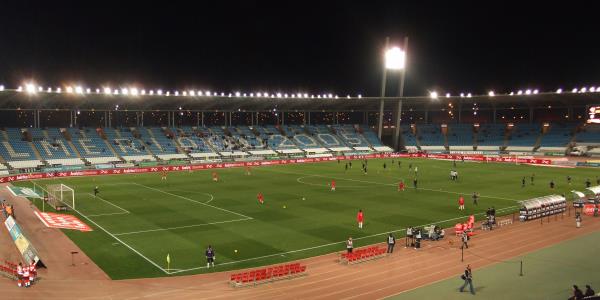 Key facts
Club: UD Almería | Opening: 2004 | Capacity: 15,000 seats
History and description
Estadio de los Juegos Mediterráneos was built to serve as the principal venue for the 2005 Mediterranean Games.
The stadium came at a cost of €22 million and officially opened one year before the games on the 31st of July 2004. It subsequently became the new home of Almería, replacing their old Estadio Juan Rojas.
Estadio de los Juegos Mediterráneos could initially hold 15,000 spectators, but was later expanded to 22,000 seats by adding additional rows of seat in front and at the back of the stands.
In 2012, temporary makeshift stands were constructed on top of the athletics tracks behind the goals to bring the fans closer to the pitch. This reduced capacity back to 15,000.
Getting there
Estadio de los Juegos Mediterráneos is located on the eastern edge of the city of Almería at just over 2 kilometres from the main railway station and a little more from Almería's city centre.
While one can about just walk from the station to the stadium, an alternative is catching bus 7. You can take the bus from the central Avenida Federico García Lorca avenue, which runs just east of the centre. Take the bus in the direction of La Goleta. They run every 20 to 40 minutes and pass right in front of the stadium.
If arriving by car from the east (including the airport), take the Autovía N-344 into town. The stadium lies directly on the left of the N-344 at entering the city.
If arriving from the west, take the N-340 into Almería's centre. Keep going straight on the same road, passing the railway station and continuing on the N-344. After about 2 kilometres the stadium will be clearly visible on the right side of the road.
Address: Calle Belladona 5, 04007 Almería
Tickets
Tickets for Almería games can be bought at the Almería club office at Estadio de los Juegos Mediterráneos, which is generally opened in the morning and evening hours.
If tickets remain available, these can also be bought at the ticket windows of the stadium on the day of the match.
Tickets typically range in price from €30.00 for a seat behind the goal to €50.00 for one at the main stand, but can vary depending on the match.
Photos
Relevant Internet links

Udalmeriasad.com – Official website of UD Almería.
Almeriaturismo.org – Almería tourist information.
Surbus.com – Almería public transport information.