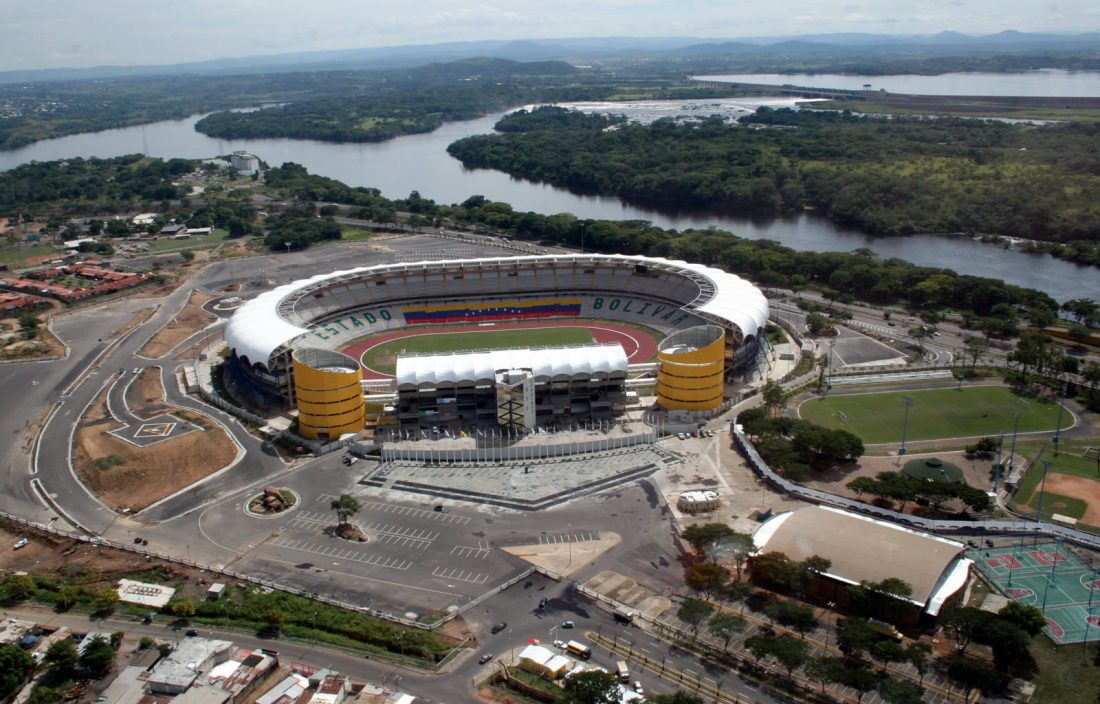 Key facts
Club: Club Mineros de Guayana | Opening: 1990 | Capacity: 41,600 seats
History and description
Estadio Cachamay, officially called Centro Total de Entretenimiento Cachamay, got built between 1987 and 1990 to serve as the new flagship venue of the city of Guayana.
Back then, it consisted of one main stand and a second smaller stand on the opposite side, and it could hold about 14,000 spectators.
Estadio Cachamay got extensively redeveloped in 2006 with the perspective of the upcoming 2007 Copa América. New enclosed stands got built on three sides and the main stand got extensively redeveloped, tripling capacity as a result.
During the 2007 Copa América, Estadio Cachamay hosted two first round group matches and the semi-final between Argentina and Mexico (3-0).
How to get to Estadio Cachamay
Estadio Cachamay is located in the Puerto Ordaz part of Ciuadad Guayana on the south bank of the Caroní river. The stadium lies on the principal Avenida Guayana directly after the bridge crossing the Caroní river. It also borders the Parque Cachamay with its famous waterfalls.
Estadio Cachamay is situated about 8 kilometres south-west from the San Felix bus terminal in the San Felix part of Ciudad Guayana and about 6 kilometres east from the Puerto Ordaz bus terminal.
Address: Avenida Guayana, Puerto Ordaz, Ciudad Guayana
Mineros Tickets
Tickets for Mineros matches can be bought at the club store at shopping centre Alta Vista I near the Puerto Ordaz bus terminal, at the Parada Inteligente at shopping centre Las Pulgas near Plaza Bolívar in the centre of Ciudad Guayana (San Felix), or at one of the other sales points.
Tickets are generally also available at the ticket windows of Estadio Cachamay on the day of the match.
Expect to pay Br 15.00 or Br 20.00 for a "Popular" seat behind the goal or opposite the main stand and Br 60.00 or Br 80.00 for a seat at the main stand.
Useful Internet links
Accdminerosdeguayana.com – Official website of Club Mineros de Guayana.
Photo credits: Shaolingv4