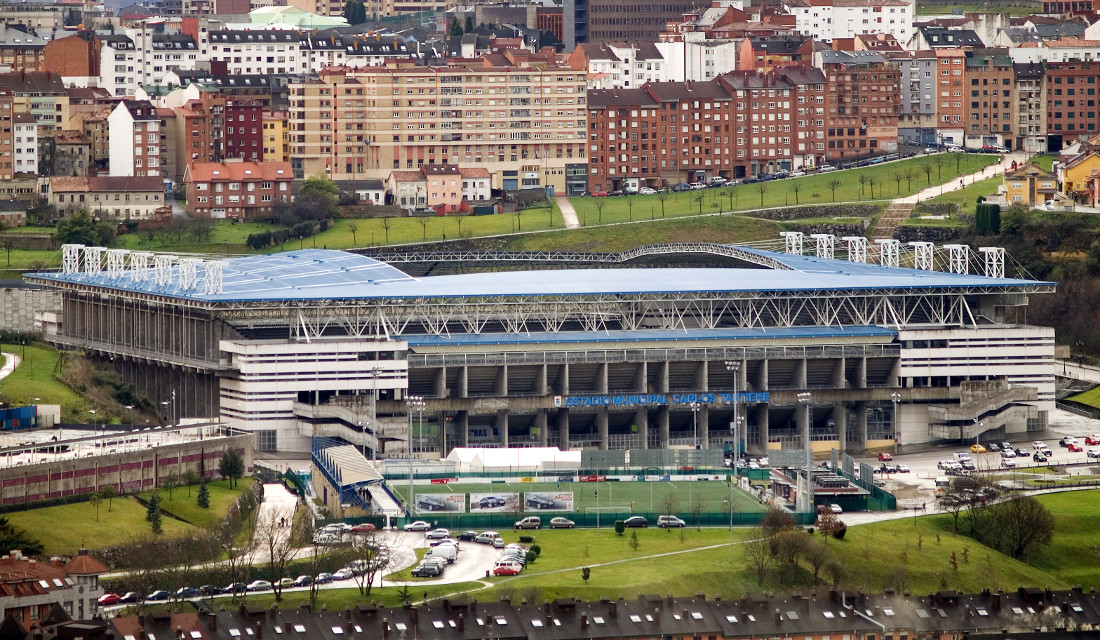 Key facts
Club: Real Oviedo | Opening: 2000 | Capacity: 30,500 seats
History and description
Estadio Carlos Tartiere opened in 2000. It replaced Oviedo's old stadium with the same name that lacked modern facilities and had seen its capacity reduced due to safety measures.
The stadium officially opened on 20 September 2000 with a friendly between Oviedo and Partizan Belgrade (0-2), but the first match, a league match between Oviedo and Las Palmas (2-2), had already been played three days earlier.
Over the years, Estadio Carlos Tartiere hosted four international games of the Spain national team.
How to get to Estadio Carlos Tartiere
Estadio Carlos Tartiere is located in the east of Oviedo at roughly 2 kilometres from Oviedo's historic centre and a little less from Oviedo's main train station, which lies just north of the centre.
The walk from either the centre or train station shouldn't take longer than half an hour.
There are a few direct trains a day running from Madrid to Oviedo. The journey takes about 4.5 hours. Cercania trains connect with a few local destinations, but for most longer-distance destinations buses are the best choice. From Asturias Airport, the closest to Oviedo, you can get a bus to get to the city.
Address: C/ Ricardo Vázquez Prada, 33013 Oviedo
Real Oviedo Tickets
Tickets for Real Oviedo matches can be bought at the club store at Modoo Shopping Centre, which is located roughly in between Estadio Carlos Tartiere and Oviedo's historic centre.
Tickets are also available at the ticket windows of the stadium before the start of the match. Oviedo has amongst the highest attendances in Spain's second division, but rarely sell out.
Photos of Estadio Carlos Tartiere
Relevant Internet links
Realoviedo.es – Official website of Real Oviedo.
Turismoasturias.es – Tourism information for the Asturias region.