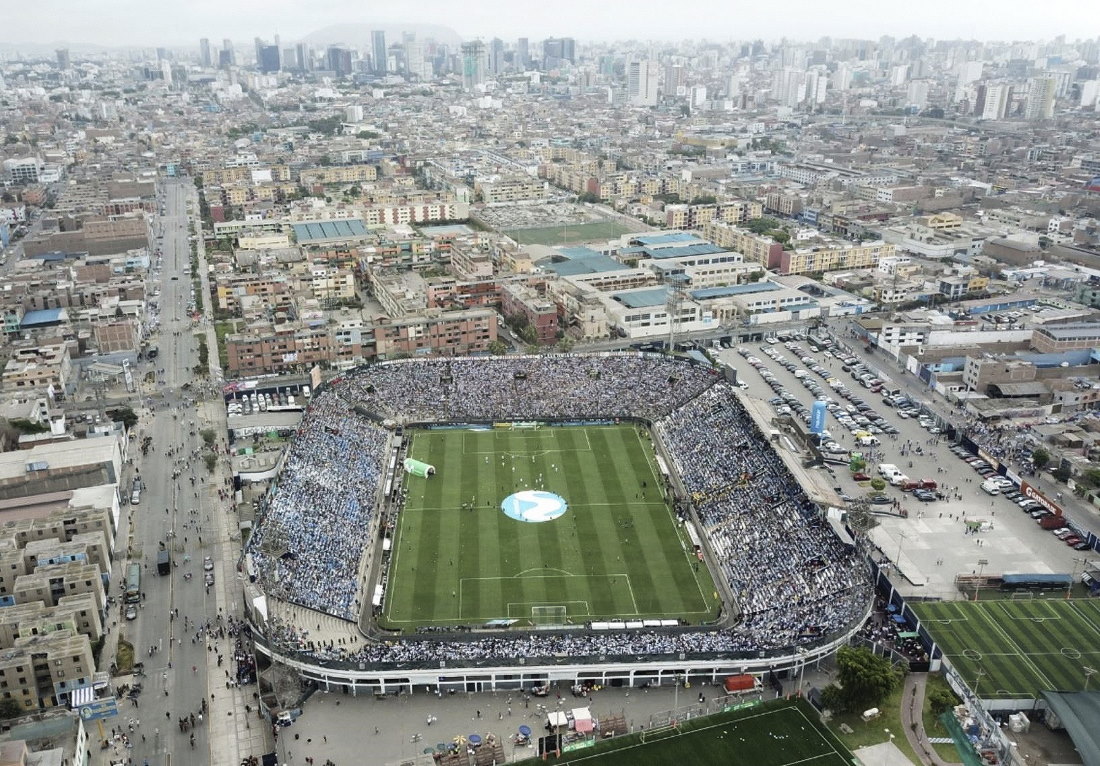 Key facts
Club: Club Alianza Lima | Opening: 1974 | Capacity: 33,938 seats
History and description
Estadio Alejandro Villanueva, also referred to as Estadio Matute and initially called Estadio Alianza Lima, got built in the 1970s to provide Alianza Lima with a new home.
Alianza had been granted the site of the stadium in 1951, but it took until 1969 for first construction works to start. It took five years to complete the stadium due to financial difficulties.
Estadio Alianza Lima officially opened on 27 December 1974 with a match between Alianza and Nacional de Uruguay as part of a four-team tournament. The stadium could hold 35,000 spectators at that time.
In 2000, the stadium changed name to Estadio Alejandro Villanueva after the striker that had played for Alianza and Peru in the 1920s and 1930s.
Over the years, the stadium regularly hosted friendly matches of the Peruvian national team, though qualifiers were usually played at the nearby Estadio Nacional.
In 2010, the wooden benches got replaced by plastic seats, but "Mamute" has remained a fairly basic ground. Alianza is therefore currently exploring options to modernise and expand the stadium, ranging from a small upgrade of the stadium to 40,000 spectators to grand plans for a new arena that can hold 60,000.
How to get to Estadio Alejandro Villanueva
Estadio Alejandro Villanueva is located centrally in Lima, just south of the historic centre and just east of the large Paseo de la Republica avenue that runs from the historic centre to the well-off Miraflores area 6 kilometres further south.
The stadium lies furthermore close to Estadio Nacional, which sits on the Paseo de la Republica directly west of Estadio Alejandro Villanueva.
It's not one of Lima's best neighbourhoods so best to take a taxi instead of walking around. An alternative is to use the new Metropolitano fixed-lane bus line that runs along the Paseo de la Republica. The nearest station is Estadio Nacional next to the national stadium. It is a straightforward 15-minute walk from there to the stadium.
The Metropolitano runs past many of Lima's popular neighbourhoods, including Barranco and Miraflores in the south, and the historic centre towards the north. Make sure to catch a line that stops at Estadio Nacional (e.g. B, C, and 1) as not all do.
Local buses may run closer to Estadio Alejandro Villanueva. Inquire locally to suitable options.
Address: Av. Isabel La Católica 821, La Victoria 15033
Alianza Lima Tickets
Alianza Lima tickets can be bought online through Teleticket.
Tickets can also generally be bought at the stadium until the start of the game.
Prices can vary per match but expect to pay from S 20.00 for a seat behind the goal to S 90.00 for a central seat at the main stand.
Photos of Estadio Alejandro Villanueva
Useful Internet links
Clubalianzalima.com.pe – Official website of Alianza Lima.