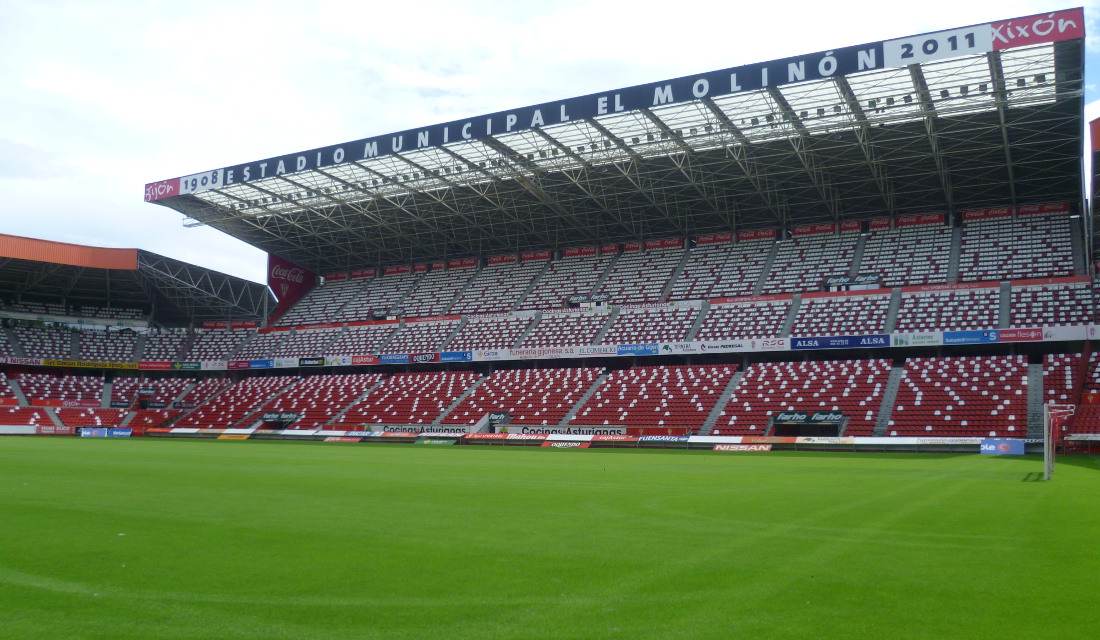 Key facts
Club: Real Sporting de Gijón | Opening: 1908 | Capacity: 30,000 seats
History and description
The first reference to Estadio El Molinón was made in May 1908, though it is likely that football had been played at the site before. The reference by newspaper El Comercio reported on a match played at the ground between La Bella Sportiva and El Balón.
Real Sporting moved into El Molinón in 1916, and one year later the stadium received its first redevelopment when a new grand stand was built. In 1926, the stadium could hold about 6,000 spectators.
In 1931, a fire broke out that destroyed the grand stand. It brought the club in serious financial troubles, and it took until 1942 for the stand to be rebuilt.
In 1969, Estadio El Molinón became the first stadium in Spain to have full cover, and one year later a new main stand opened.
The stadium underwent a major redevelopment before the 1982 World Cup, raising capacity to 45,000, of which 16,600 seats. During the World Cup, El Molinón hosted three group matches, all involving West Germany.
The stadium got converted into an all-seater in 1997, reducing capacity to just under 26,000 seats.
A decade later, El Molinón got again renovated, which involved the construction of a new north stand, the refurbishment of the other stands and the interior of the stadium, and a new exterior. It also slightly increasing capacity.
(photos of the present Estadio El Molinón below)
How to get to El Molinon
Estadio El Molinon is located about 2 kilometres east of Gijón's historic city centre, and about 3.5 kilometres from the city's main train station.
The stadium lies only 500 metres away from Gijón most popular beach, San Lorenzo beach, with only the city's main park, Parque Isabel La Católica, separating the two.
From the historic city centre one can take bus 1 or 10 to the stadium. From stop FEVE or Gota de Leche (in the centre) one can take bus 1 in the direction of Hospital de Cabueñes. Get off at stop Las Mestes. The journey takes about 11 minutes.
From Plaza de Carmen take bus 10 to Pumarín-Candenal. Again get off at stop Las Mestes. The journey takes about 20 minutes.
From the main train station one can either walk 10 minutes to stop Gota de Leche, or take bus 18 to Hospital de Cabueñes and get off at stop Plaza de Toros. From there it is a 10-minute walk to the stadium.
All buses go at least every 20 minutes.
Address: Paseo Isabel La Católica s/n, 33203 Gijón
Eat, drink, and sleep near El Molinon
Estadio El Molinon is located centrally in Gijon in a rather dense mostly residential area. It is located right next to the pleasant Parque Isabel La Católica and just a short walk away from Gijon's centre and the San Lorenzo beach.
There are a few local bars and restaurants around El Molinon, and plenty more places to eat and drink a few hundred metres away around the centre and the beach.
There are a few hotels right around El Molinon, including the Parador de Gijon, Tryp Rey Pelayo Hotel, and the NH Gijon. Click here for an overview of hotels near El Molinon (which is near the Exhibition Centre). Of course, there are many more hotels in and around Gijon's historic centre.
Sporting Gijon Tickets
Tickets for Sporting games can be bought online, at the ticket windows of the stadium, or at the official club store at the Calle San Bernardo 20 (right in the city centre).
The ticket windows are also open on the day of the match. Sporting however does occasionally sell out so for the high-profile matches it is advised to buy in advance.
Ticket prices depend on the opponent. For a very low-profile match they can start as low as €15.00 for a seat behind the goal and range up to €40.00 for a seat at the main stand, but for most matches tickets will start at either €20.00 or €30.00. However, expect to pay at least €70.00 for the top matches against Barcelona and Madrid.
Photos of El Molinon
Relevant Internet links
Realsporting.com – Official website of Real Sporting de Gijón.
Gijon.info – Official tourism portal of the city of Gijón.
Bus.gijon.es – Gijón public transport information.