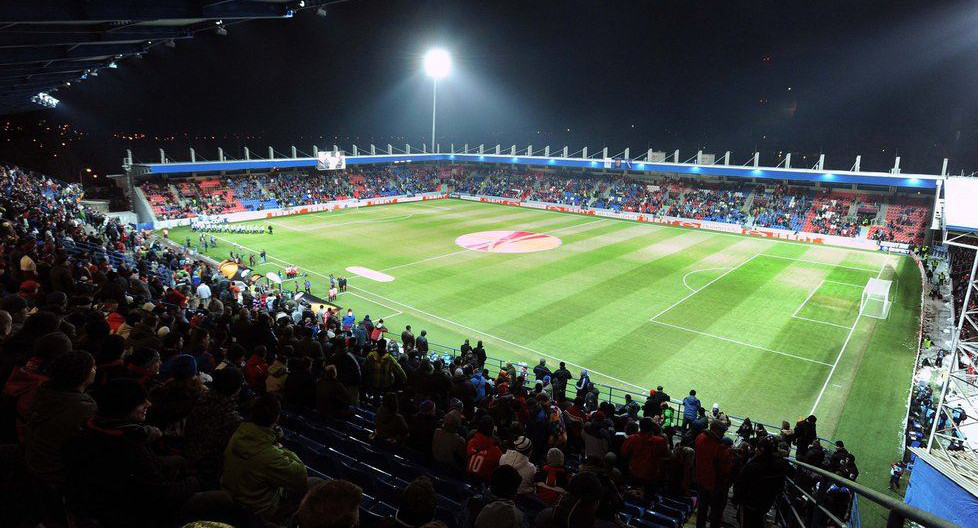 Key facts
Club: FC Viktoria Plzeň | Opening: 1955 | Capacity: 11,700 seats
History and description
The DOOSAN Arena, until recently called Stadion Mesta Plzne, opened in 1955. It could at that time hold about 35,000 spectators, of which 7,600 seated.
The stadium hardly changed in the following decades, and had severely aged by the 2000s. Capacity had decreased to under 10,000 due to safety measures.
Plans were therefore made for a new stadium in the south-west of the city, but in the end it was decided to renovate Stadion Mesta instead.
Works began in 2011, and involved the demolition and reconstruction of three stands. Only the old main stand remained. The renovated stadium was completed in late 2011.
How to get to the DOOSAN Arena
The DOOSAN Arena is located on the north-eastern edge of Plzen's (Pilsen's) city centre. The walk from either the central market square or the railway station does not take more than 5 to 10 minutes.
There are regular train connections between Prague and Plzen. The journey takes just under 2 hours.
Address: Štruncovy sady 3, 301 12 Plzeň
Eat, drink, and sleep near the DOOSAN Arena
The DOOSAN Arena is conveniently located right on the edge of Pilsen's city centre, which means that there are plenty of eating and drinking options at close distance from the stadium.
The Pilsner Urquell Brewery lies almost next to the stadium toward the railway station and offers guided tours.
There is a nice variety of hotels in Pilsen's city centre and surroundings, which are all at walking distance of the DOOSAN Arena. Click here to explore the options.
Viktoria Plzen Tickets
Tickets for Viktoria Plzen games can be bought online, at the ticket office at the DOOSAN Arena, or at any of the Vstupenka sales outlets or self-service points.
Tickets are also sold on the gate on the day of the match.
Ticket prices range from CZK 120.00 for a seat behind the goal to CZK 200.00 for a central seat at one of the long sides.
Photos of the DOOSAN Arena
Relevant Internet links
Fcviktoria.cz – Official website of FC Viktoria Plzeň.
Pilsen.eu – Plzeň tourist information.