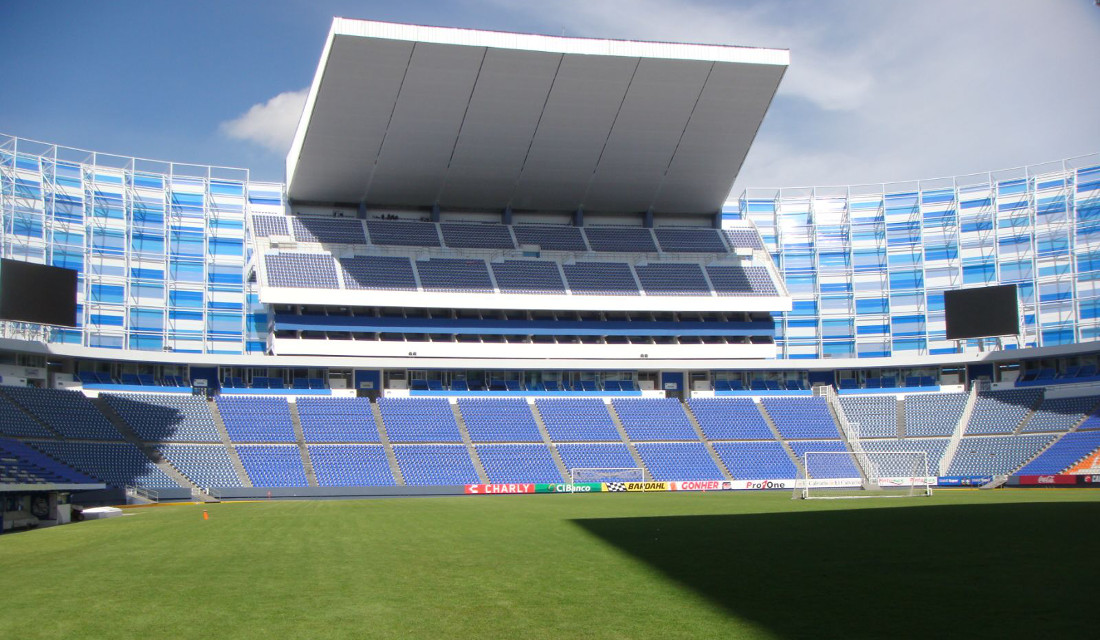 Key facts
Club: Puebla FC | Opening: 1968 | Capacity: 51,726 seats
History and description
Estadio Cuauhtémoc was built to serve as one of the playing venues of the football tournament of the 1968 Olympics. It was designed by the same architect that also designed Estadio Azteca.
Estadio Cuauhtemoc officially opened on 6 October 1968, just before the start of the games. The official first match was one between the Mexican national team and the Czech Republic Olympic team (1-1), but before this match a warm-up a match had already been played by Puebla and America.
Two years later the stadium was also one of the five playing venues of the 1970 World Cup, hosting three group matches.
Capacity of the stadium was initially 35,000, but this was increased for the 1986 World Cup to 42,648 by building two extra tiers on both long sides.
During the 1986 World Cup, Estadio Cuauhtemoc hosted two group matches, a round of 16 match, the quarter-final between Belgium and Spain (1-1), and the match for third place between France and Belgium (4-2).
In 2015, the stadium underwent a large redevelopment, including a new outer facade, the construction of extra tiers on both ends, and the installation of new seats. This raised capacity with about 10,000 seats to over 51,000.
(photos of the present Estadio Cuauhtemoc below)
How to get to Estadio Cuauhtemoc
Estadio Cuauhtemoc is located in the north-east of the city of Puebla, along the Mexico–Puebla motorway (150D), and approximately 7 kilometres from Puebla's historic centre.
The stadium is best reached by taxi, though local buses do serve it. A taxi ride from the CAPU bus terminal takes approximately 10 minutes, and a ride from the city centre 15 to 20 minutes.
Address: Calzada Ignacio Zaragoza 666, Colonia Unidad Deportiva, Puebla (Heroica Puebla de Zaragoza)
Puebla Tickets
Tickets for Puebla games can be bought online via Superboletos, at the ticket office at the stadium, or at one of the other sales points.
Centrally located sales points are the Farmácia del Ahorro pharmacy at 10 Poniente #116 and the Mistertennis store at 2 Poniente #114, both in Puebla's historic centre.
Tickets will also be available on the day of the match at the stadium.
Ticket prices depend on the opponent. For a regular league match these will typically range from MXN 90.00 for a seat at the upper ramps to MXN 390.00 for a seat at the lower tier of the main stand. Prices tend to get doubled for high-profile matches.
Photos of Estadio Cuauhtemoc
Relevant Internet links
Pueblafutbolclub.com – Official website of Puebla FC.
Turismopuebla.gob.mx – Tourism portal of the Puebla city councel.