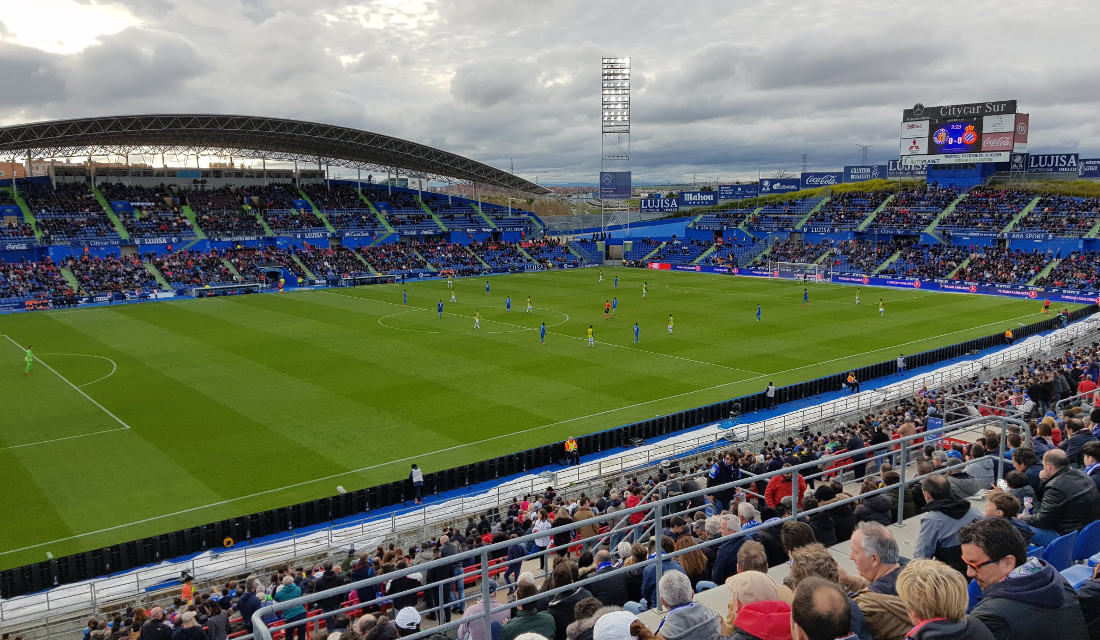 Key facts
Club: Getafe CF | Opening: 1998 | Capacity: 17,500 seats
History and description
Coliseum Alfonso Pérez replaced Getafe's old Estadio Las Margaritas, which had become too small after the club celebrated several successes in the 1980s and early 1990s.
Coliseum Alfonso Perez opened on 30 August 1998 with a match between Getafe and Tavares (0-1), though the official opening was held a few days later, on the 2nd of September, with a three-team tournament between Borussia Dortmund, Feyenoord, and Atlético de Madrid.
The stadium was initially slightly smaller, but got expanded after Getafe promoted to La Liga in 2004. At the same time, a new roof got installed on top of the main stand.
Getafe's fans, however, have never really warmed up to the stadium that is considered cold and impersonal. The club has therefore already been investigating building a complete new stadium, though the financial crisis seems to have shelved any plans for the moment.
How to get to Coliseum Alfonso Perez
Coliseum Alfonso Perez is located about three kilometres north of the centre of Getafe. Getafe itself is a suburb of Madrid, located south of the city at about 11 kilometres from its centre.
Metro station Los Espartales lies a 5-minute walk away from the stadium. Los Espartales is on the circular line 12 (Metrosur), which runs through Madrid's southern suburbs. Line 12 connects at station Puerta Del Sur with line 10. Line 10 passes through Madrid's centre, and can, for example, be boarded at station Plaza de España. The whole trip from Plaza de España takes almost an hour.
However, from Madrid it is much quicker to take a Cercanía commuter train to the stadium. Board a train toward Parla at, for example, Sol, Atocha, or Chamartin cercanía station, and get off at station Las Margaritas Universidad. The ride takes 15 to 20 minutes and from Las Margaritas it is a further 15 minutes walking to the stadium.
From southern Madrid you can also catch bus 443 (from Plaza Elíptica) or 448 (from Legazpi).
Address: Avenida Teresa de Calcuta S/N, 28903 Getafe
Eat, drink, and sleep near Coliseum Alfonso Perez
Coliseum Alfonso Perez is located in a quiet urban neighbourhood in Getafe. There's little around in terms of eating and drinking, in particular for Spanish standards, but you may find the odd local place for a quick bite. Still, if possible find something to eat in central Madrid, in particular as Spanish stadiums tend to offer little choice in concessions.
Similarly, there are few options to stay close to the stadium. The closes is an Ibis roadside hotel a 25-minute walk away, or stay at the well-rates Hostal Carlos III in Getafe's city centre. Click here for an overview of hotels near Coliseum Alfonso Perez, and here to explore options in Madrid.
Getafe Tickets
Tickets for Getafe games can be bought online, or at the club offices at Coliseum Alfonso Pérez.
Tickets can also be bought on the gate on the day of the match. The ticket windows (taquillas) are open until half-time. Getafe hardly ever sell out a match.
Ticket prices depend on the opponent, but typically range from €35.00 for a seat behind the goal to €70.00 for a seat at the main stand. Expect to pay at least €50.00 when Barcelona or Madrid come to visit.
Photos of Coliseum Alfonso Perez
Coliseum Alfonso Perez on Instagram
[instagram-feed location="246181318″]
Relevant Internet links
Getafecf.com – Official website of Getafe CF.
Metromadrid.es – Travel information on the Madrid metro.
CRTM.es – Madrid public transport information.