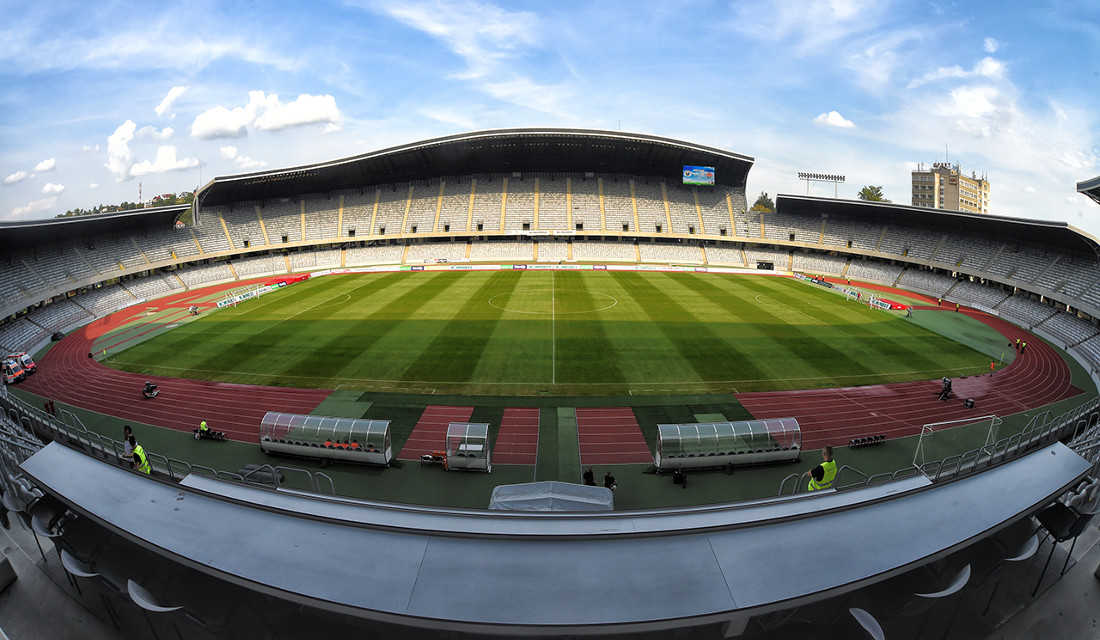 Key facts
Club: FC Universitatea Cluj | Opeming: 2011 | Capacity: 30,020 seats
History and description
The Cluj Arena was built to provide the city of Cluj-Napoca with a multifunctional arena to host concerts and sports events. It replaced the old Ion Moina stadium and thus became the new home of Universitatea Cluj.
Demolition of the old stadium started in late 2008 and construction of the new one 9 months later.
The arena officially opened on 8 October 2011 with a concert of rock band The Scorpions. The first football match was played three days later when Universitatea hosted Kuban Krasnodar for an exhibition match.
How to get to the Cluj Arena
The Cluj Arena is located about a kilometre west of Cluj-Napoca's old town on the Somesul Mic river next to the city's Central Park.
The walk from the old town takes about 15 minutes.
Cluj-Napoca's main railway station is located a little further away, about a kilometre north of the old town. The walk to the stadium takes about 30 minutes, or take the tram. Tram 101 and 102 connect the stadium with the railway station (and old town). Trams run frequently for the 10-minute journey.
Address: 2 Aleea Stadionului, Cluj-Napoca
Universitatea Cluj Tickets
Tickets for Universitatea Cluj games can be bought in advance at the Cluj stand at Iulius Mall Cluj in the east of the city, or on the day at the stadium. Tickets may at times also be available to buy online through bilete.ro.
Tickets cost either 10.00 lei for the lower tier, 12.00 lei for the upper tier, or 40 lei for a VIP ticket.
Photos of the Cluj Arena
Useful websites
Fcuniversitateacluj.ro – Official website of FC Universitatea Cluj.
Romaniatourism.com – Cluj-Napoca section of the Romanian tourism website.