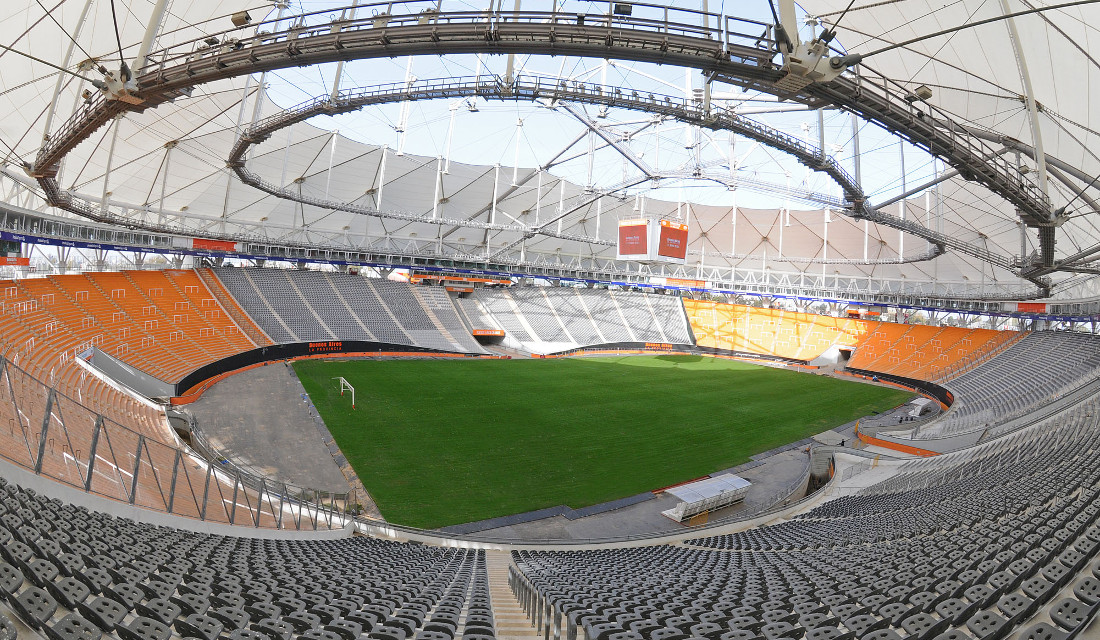 Key facts
Club: none | Opening: 2003 | Capacity: 42,000
History and description
Estadio Único Ciudad de la Plata is a state-owned stadium in the city of La Plata that between 2006 and 2019 was the home of Estudiantes de la Plata.
The first steps towards construction of a stadium for the city of La Plata were taken in 1947 when a plot of land was secured and a sports complex was built. In the mid 1970s, the city considered building a stadium for the 1978 World Cup, but plans led to nothing.
The project was picked up again in the late 1980s, and after a long process construction of the new stadium started in 1998. However, soon after an economic crisis hit Argentina and building works were forced to a halt due to funding problems.
Works got resumed again in 2003 and Estadio Ciudad de la Plata officially opened on 7 June of that year, though the planned roof had not been installed yet.
Initially, both clubs from La Plata, Estudiantes and Gimnasia, decided to stay at their own ground, but when these failed to meet safety requirements in 2006, they were forced to move to Estadio Ciudad de la Plata.
After Gimnasia had made the necessary changes to its Estadio Juan Carlos Zerillo in 2008, it moved back to its traditional home.
Estudiantes had intended to build a new stadium in place of its Estadio Jorge Luis Hirschi, but legal challenges meant that the project stalled and it took Estudiantes until 2019 to move back to their traditional home.
In 2008, the governor of the Buenos Aires province decided to complete the unfinished works on the stadium, including the construction of the roof and several VIP facilities. The renovated stadium opened early 2011.
A few months later, Estadio Ciudad de la Plata was one of the playing venues during the 2011 Copa América, hosting the opening match, a further two group matches, a quarter final, a semi-final, and the match for third place.
The stadium has a retractable pitch, which enables it to be used for multiple purposes without damaging the pitch. In recent years the stadium has turned into one of the principal concert venues of Argentina.
How to get to Estadio Ciudad de la Plata
Estadio Ciudad de la Plata is located in the west of the city of La Plata, about 3.5 kilometres from the central Plaza Moreno and cathedral. The stadium furthermore lies about 5 kilometres south-west of La Plata's rail station and bus terminals.
From Buenos Aires you can get to La Plata by train or bus. Trains leave from rail station Constitución and buses from terminal Retiro. The trip will generally take between one and one-and-a-half hour.
From La Plata rail station (and nearby bus terminals), you can reach the stadium with bus (colectivo) O16 or E45. Both buses pass right by the stadium on Avenida 32. Bus O24 is an alternative. It passes the stadium on the other side on Calle 526.
From Plaza Moreno one can take bus N13 or 506R41. Bus N16 passes the stadium on Calle 526, whereas bus 506R41 passes the stadium on Avenida 32.
Address: Estadio Unico Ciudad de la Plata, Tolosa, La Plata
Photos of Estadio Ciudad de la Plata
Relevant Internet links
Estadiolp.gba.gov.ar – Official website of Estadio Unico Ciudad de la Plata.
Laplata.gov.ar/turismo – La Plata tourist information.
Laplata.gov.ar – La Plata public transport information.