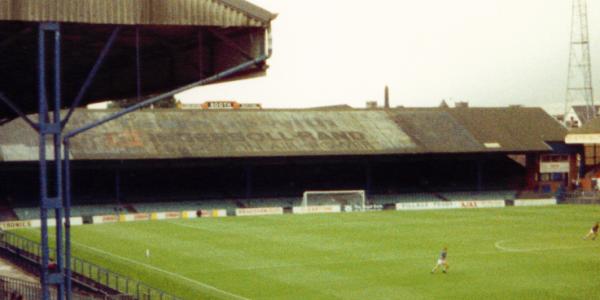 Key facts
Club: Bolton Wanderers | Opening: 1895 | Closing: 1997 | Final capacity: 25,000 | Maximum capacity: 70,000
Description
Burnden Park was for over a hundred years the home of Bolton Wanderers FC. It was also the site of one of the worst stadium disasters in the history of English football.
In its first decades of existence Bolton Wanderers played at a ground at Pike Lane, however by the early 1890s they were in urgent need of a purpose-built ground.
Construction of Burnden Park was financed with a share issue that turned Bolton into a limited company. The stadium opened in August 1895 with a friendly match between Bolton and Preston.
The stadium got gradually expanded in the following decades and by the 1930s a total of 70,000 fans could pack into the stadium. The official record attendance was set in 1933 when 69,912 fans visited a match between Bolton and Manchester City.
However, it is estimated that a total of 85,000 people came to see Sir Stanley Matthews play in 1946 during a 6th round FA Cup match against Stoke. The huge Embankment terrace was far over capacity and when the crowd pressed forward two metal crush barriers broke. The resulting crush killed 33 fans and injured another 400.
By the 1980s Burnden Park was in steady decline with low attendances and a heavily reduced capacity, and in 1986 part of the Railway Stand was sold off to make way for a supermarket.
In the early 1990s plans were made for the conversion of the stadium into an all-seater, however in the end was decided to build a new stadium.
The last match at Burnden Park was played in April 1997 and involved a league match between Bolton and Charlton Athletic. At that time the stadium could hold about 25,000 fans.
A few months later the club moved into the Reebok Stadium and two years later Burnden Park got demolished to make place for a supermarket.