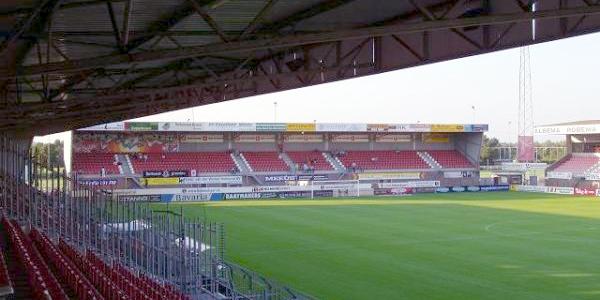 Key facts
Club: Helmond Sport | Opening: 1967 | Capacity: 4,100 seats
History and description
SolarUnie Stadion, previously called Lavans Stadion and more commonly known as Stadion De Braak, got built in 1967. The stadium underwent several redevelopments between 1994 and 2000 when three new seating stands were built.
SolarUnie Stadion only consists of three stands. One of the short ends is left open with just the scoreboard.
Between 2010 and 2018 the stadium was called Lavans Stadion following a naming rights sponsorship deal. It changed name to SolarUnie Stadion in 2018 following a new naming rights deal.
How to get to SolarUnie Stadion
SolarUnie Stadion is located about 2 kilometres north-east of Helmond's small city centre, and a similar distance from Helmond's main train station (which lies just south of the city centre). The walk from both places will take less than half an hour.
Bus 23 and 54 connect the stadium with the train station. Take bus 23 in the direction of Milheeze and get off at stop Bijsterveld. It is a 5-minute walk from there. Otherwise, take bus 54 in the direction of Straakven. Get off at stop Bakelsedijk, which is even closer to the stadium. The ride takes about 10 minutes.
Address: Sportpark De Braak 7, Helmond
Helmond Sport Tickets
Tickets for Helmond games can be bought at the club office at the stadium, or at one of the Ticketbox sales points, of which the Primera Kroon at the Ameidestraat 14 in Helmond's city centre is the most centrally located.
Tickets are also available at the gates of the stadium on the day of the match. Helmond Sport only sells out the occasional high-profile match.
Tickets range in price from €10.00 to €15.50.
For more information email info@helmondsport.nl or call +31 (0) 492 524721.
Photos of SolarUnie Stadion
Useful Internet links
Helmondsport.nl – Official website of Helmond Sport.
Vvvhelmond.nl – Helmond tourist information.
9292ov.nl – Public transport journey planner.