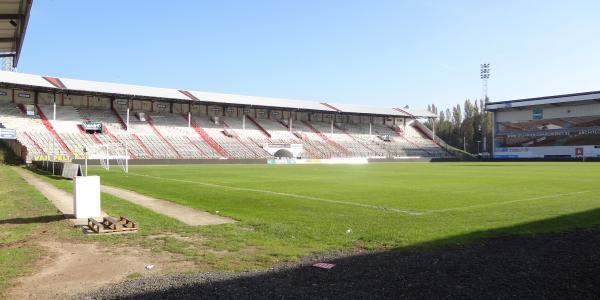 Key facts
Club: Royal Antwerp FC | Opening: 1923 | Capacity: 16,649 (2,596 standing)
History and description
In the early 20th century, Antwerp played its home matches at a stadium at the Broodstraat, which by the 1920s regularly proved too small to house its increasing number of fans. The club therefore decided to build a new stadium in the Antwerp suburb of Deurne.

The Bosuilstadion officially opened on the 1st of November 1923 with an international between Belgium and England. Its initial capacity was 38,000, but this was increased in two steps – the first in 1937, and the second in 1956 – to a maximum of 60,000.

In its first decades, the Bosuilstadion was the standard venue for the regular international clashes between Belgium and Holland. In those years the stadium earned itself the nickname "Hell of Deurne". The last of these matches, however, already amounts back to 1977, after which the Belgian FA moved Belgium's international fixtures to the Heysel Stadium.

In the 1980s, the state of the Bosuilstadion quickly deteriorated, and even though a new stand with 800 business seats was built in 1991, the stadium had to be closed at the start of the 1997/98 season due to its decaying state.

In the meantime, Antwerp had missed out on being a host city at the Euro 2000 tournament. Delays in the design and financing of a new stadium, that was supposed to replace the Bosuilstadion, finally led to the cancellation of all plans.

In the end, only one new stand was built following the design of the proposed stadium, though with reduced capacity compared to the original plans.

The future of the Bosuilstadion is unknown. Though plans exist to rebuild a further two new stands, another option may be to share a complete new stadium with Beerschot AC, a move favoured by the city of Antwerp.

We cannot display this gallery

(photos of the present Bosuilstadion below)
Getting there
The Bosuilstadion is located in the residential suburb of Deurne, approximately 6 kilometres east of the old city centre of Antwerp.
The stadium is best reached by car from the E34/E313 motorway, which connects with the Antwerp ring road and runs towards the east (Hasselt). Take exit 18 Wommelgem, and turn north on the roundabout. Follow the Krijgsbaan and then the Houtlaan north until the crossing with the N120 Merksemsebaan. Turn left and follow the Merksemsebaan. After about 2 kilometres, turn left onto the Oude Bosuilbaan or Jan Welterslaan to reach the stadium.
If arriving by public transport, one can reach the stadium with tram 5. Take the tram at Antwerp central station toward Wim Saerensplein, and get off at Deurne Antwerp Stadion.
Address: Oude Bosuilbaan 54a, 2100 Deurne – Antwerpen
Tickets
Tickets for Antwerp games can be bought at the Clubshop at the Bosuilstadion, or at the gates of the stadium on the day of the match.
Tickets for seats go for either €20.00, €23.00 or €50.00. A ticket for one of the standing areas also costs €20.00. Tickets are €3.00 cheaper if bought in pre-sale.
Photos
We cannot display this gallery
Relevant Internet links

RAFC.be – Official website of Royal Antwerp FC.
Antwerpen.be – Antwerp tourist information.
Delijn.be – Antwerp public transport information and journey planner.