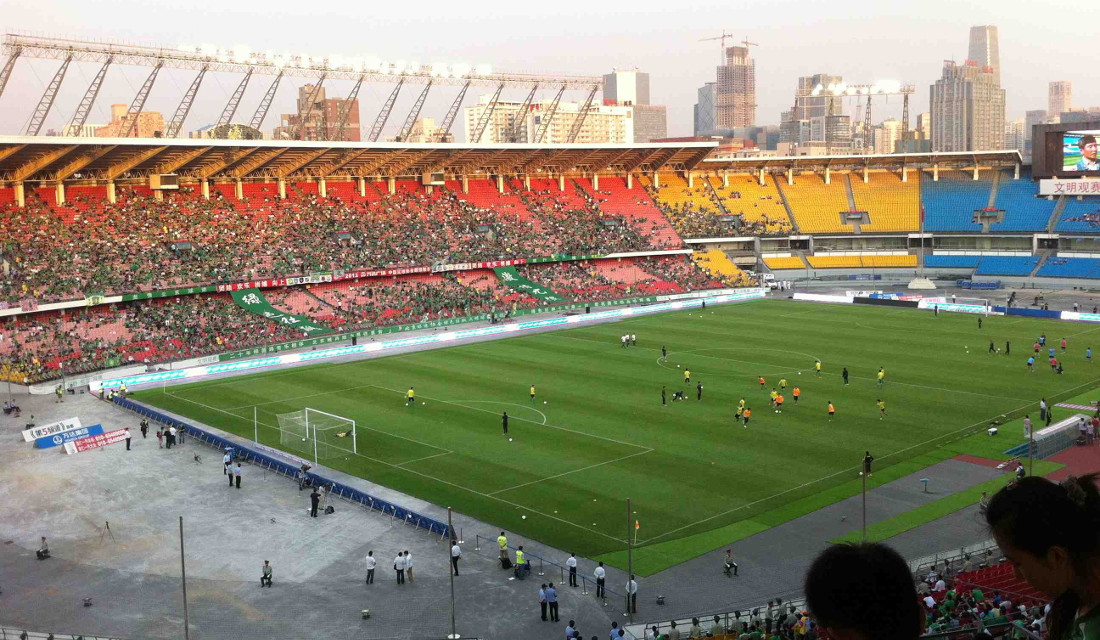 Key facts
Club: Beijing Sinobo Guoan FC | Opening: 1959 | Capacity: 64,000 seats
History and description
Beijing Workers Stadium was built in 1959 to celebrate the 10th anniversary of the People's Republic of China and to serve as China's new national stadium, hosting the country's National Games.
In 1986, the stadium got extensively renovated over a three-year period and subsequently hosted the 1990 Asian Games.
In 1995, Workers Stadium became the home of Beijing Guoan FC. The club temporarily moved away to Fentai Stadium in 2005, but returned again in 2009.
Beijing Workers Stadium hosted a number of games during the 2008 Olympic football tournament, including a semi-final in both the men's and women's tournament. Before the tournament, the stadium had received an extensive refurbishment.
How to get to Beijing Workers Stadium
Beijing Workers Stadium is located in the Sanlitun area just east of central Beijing at roughly 6 kilometres from Tiananmen Square.
The stadium lies only just north of Beijing's central business district, a 15 to 30-minute walk, and just south-west of the Sanlitun Village nightlife area, a 10 to 15-minute walk.
The stadium is furthermore easily reached by subway, with three stations at 10 to 15-minute walking distance. The first is Dongsi Shitiao station west of the stadium, which is on line 2 that circles Beijing's city centre. The second is Dongdaqiao south of the stadium, which is on line 6 that runs east-west just north of the Forbidden City. The third option is Tuanjiehu station east of the stadium, which is on line 10, the wider loop that circles central Beijing.
Address: Workers' Stadium N Rd, Chaoyang Qu, China, 100027
Photos of Beijing Workers Stadium
Relevant Internet links
Fcguoan.com – Official website of Bejing Sinobo Guoan FC.
Visitbeijing.com.cn – Beijing tourism information.
Bjsubway.com – Beijing subway information.