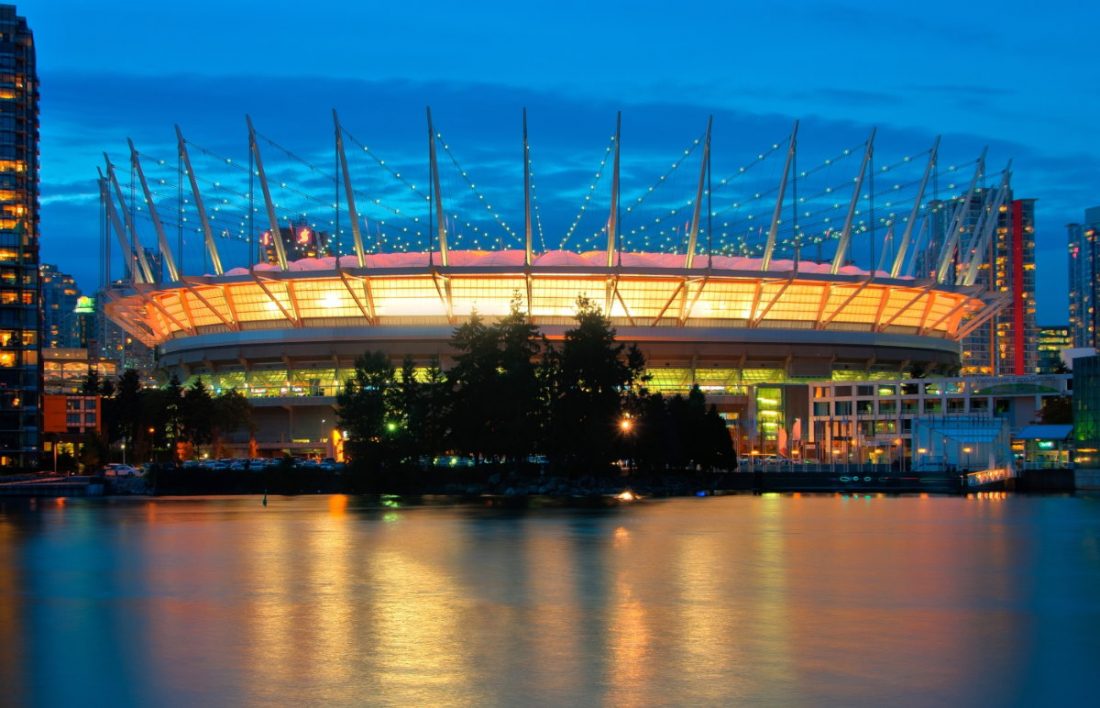 Key facts
Club: Vancouver Whitecaps FC | Opening: 1983 | Capacity: 54,320 seats
History and description
BC Place was built between 1981 and 1983 and opened on 19 June 1983. One day later, the stadium hosted its first soccer match, which ended in the Vancouver Whitecaps beating the Seattle Sounders 2-1 in front of a crowd of 60,342.
BC Place had been built to serve as a home for the BC Lions of the Canadian Football League and the Vancouver Whitecaps, who then still played in the North American Soccer League. However, one year later this league ceased to exist and soccer disappeared from the stadium.
Most characteristic feature of the stadium back then was its air-supported domed roof, the world's largest of its kind. It however got replaced during an extensive renovation which took place between 2010 and 2011.
This renovation, which came at a cost of CAD$ 563 million, also included a general upgrade of seats and facilities, as well as the installation of a centre-hung video board. The domed roof got replaced by a retractable roof in the style of Frankfurt's Commerzbank Arena.
BC Place reopened on 30 September 2011. Shortly after the Whitecaps moved in, having been granted a place in the Major League Soccer earlier in the year. For Whitecaps matches capacity is generally reduced to 21,000 seats.
How to get to BC Place
BC Place is located on the south-eastern side of downtown Vancouver, almost on the shore of False Creek.
The stadium is best reached by SkyTrain, Vancouver's light rapid transit system. SkyTrain station Stadium-Chinatown is located closest to the stadium, only two blocks away. The station is served by trains on the Expo and Millennium Lines.
BC Place can also be reached by Skytrain's Canada Line, which stops at the Yaletown-Roundhouse station, only three blocks away from the stadium. Vancouver City Centre Station, also on the Canada Line, is neither far away. The Canada line also connects with the airport.
From practically all downtown locations the stadium can easily be walked to though.
Address: 777 Pacific Blvd., Vancouver, BC, V6B 4Y8
Vancouver Whitecaps Tickets
Tickets for Whitecaps games can be bought online via Ticketmaster. The Whitecaps do sell out the occasional game, but for most matches tickets will be easily available in advancee.
Prices for regular seats range from CAD$28.00 for a seat in one of the corners to CAD$75.00 for one at the main stand, with club and loge seats going for between CAD$90.00 and CAD$140.00.
Email sales@whitecapsfc.com for more information.
Photos of BC Place
Useful Internet links
Whitecapsfc.com – Official website of Vancouver Whitecaps FC.
BC Place Stadium – Official website of BC Place.
Tourismvancouver.com – Vancouver tourist information.
Translink.ca – Public transport information for the metro Vancouver area.