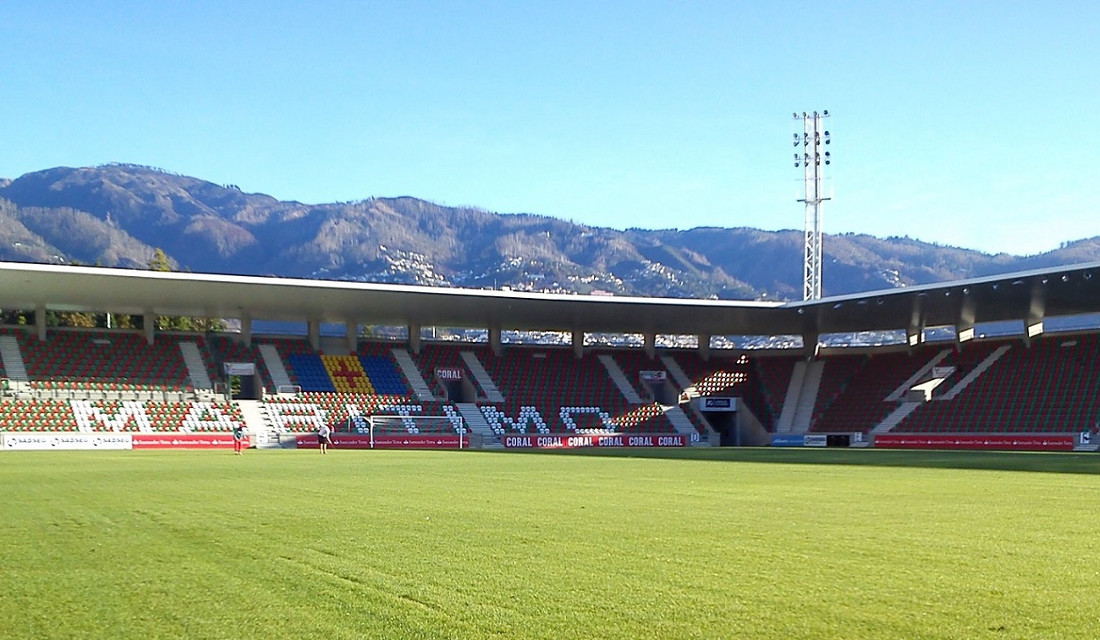 Key facts
Club: CS Marítimo | Opening: 1957 | Capacity: 10,600 seats
History and description
Estadio do Maritimo, previously known as Estadio dos Barreiros XXI, officially opened on 5 May 1957. In the next 50 years, only minor changes were made such as the conversion of the standing areas into seating.
However, by the turn of the millennium and with Maritimo's regular participation in the Europa League, it became clear that the club needed of a more modern home.
In 2009, plans were presented for a redevelopment of Estadio dos Barreiros into a 9,000-all-seater, and soon after works started. Works were expected to finish in 2010, however were halted before completion due to funding problems of the consortium in charge of the project.
Works were resumed in 2014 and by the end of the 2014-15 season new covered stands on three sides were completed with only the old main stand left standing. The final part of the redevelopment was completed by the end of 2016 with the opening of the new main stand.
At the same time, the name of the stadium was changed from Estadio dos Barreiros to Estadio do Maritimo.
(photos of the present Estadio do Maritimo below)
How to get to Estadio do Maritimo
Estadio do Maritimo is located about 2.5 kilometres west of the city centre of Funchal (the capital of the island of Madeira) and just north of the hotel zone around Estrada Monumental.
The walk from the city centre takes about half an hour and that from the hotel zone around Estrada Monumental 10 to 30 minutes depending on where you are. Note that it is an uphill walk to get to the stadium though.
From the city centre, you can also take bus 8 or 45 to get to the stadium (take the bus from de Avenida do Mar). Buses tend to run once or twice an hour.
Address: Rua Dr. Pita, Funchal
Eat, drink, and sleep near Estadio do Maritimo
Estadio do Maritimo is located in a quiet residential neighbourhood somewhat up the hill. It's a short walk down towards the coast, where there a plenty places to eat and drink, towards Funchal's city centre as well as in the hotel zone along the Estrada Monumental.
Funchal is packed with hotels so there is a choice for everyone. There are a good few smaller B&Bs, guesthouses, and apartment rentals directly near Estadio do Maritimo. The larger hotels and resorts are a little further away, Enotel Quinta do Sol being the nearest, but many more choices just a little further away. Click here for an overview of hotels in Funchal.
Maritimo Tickets
Tickets for regular league matches cost either €12.50 or €20.00. For the matches against Porto, Sporting and Benfica prices are increased to €20.00 and €30.00
For more information call +351 291 205 000 or email loja@csmaritimo.pt.
Photos of Estadio do Maritimo
Relevant Internet links
CSMaritimo.pt – Official website of CS Marítimo.
Visitmadeira.pt – Tourist information for the Madeira Islands.