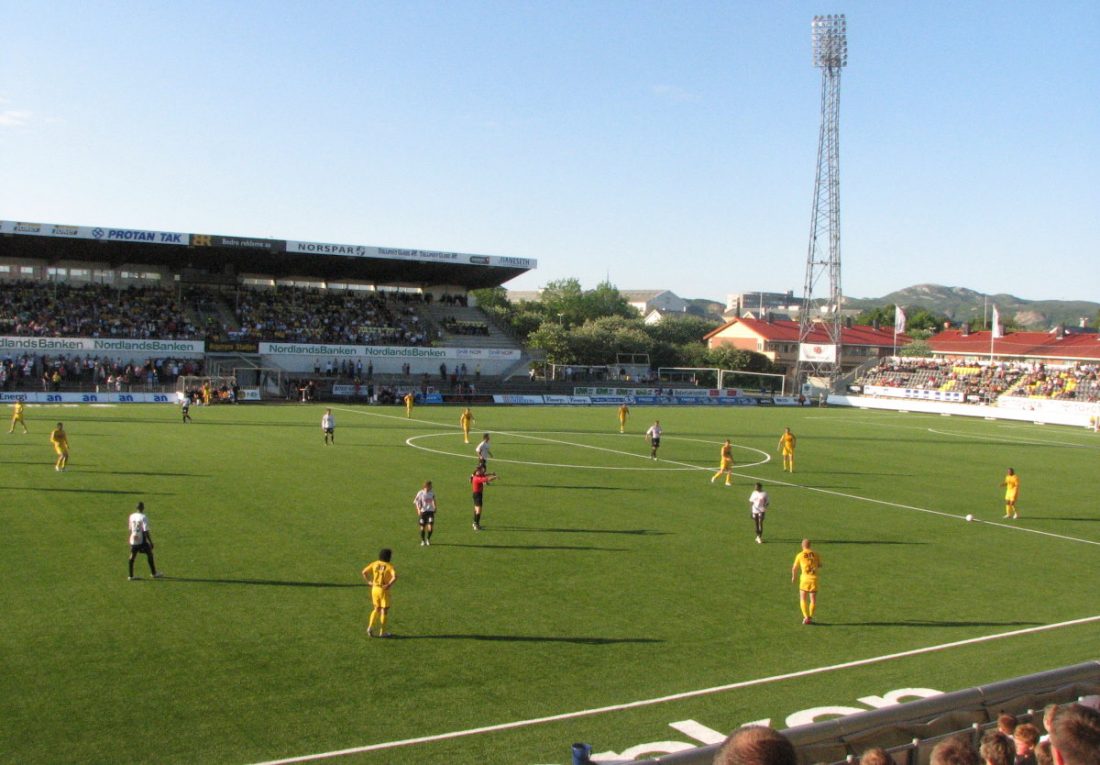 Key facts
Club: FK Bodø / Glimt | Opening: 1966 | Capacity: 4,616 seats
History and description
Aspmyra Stadion got built in the 1960s when Glimt's previous ground had gotten too small. Construction started in 1965 and the stadium opened in 1966 with a youth team match.
The stadium initially consisted of one large main stand with wooden benches and terraces on the other sides.
In 1992, Glimt had moved indoors to the Nordlandshallen due to pitch issues, but when the club promoted to the top league in 1993, they were obliged to move back out.
The pitch issues at Aspmyra Stadion were solved just in time for the team to be able to play their home matches in Bodø , and at the same time plans were made for an extensive redevelopment of the stadium.
After a few years of bureaucratic delays, works started in 1999 and involved a new stand on the side and behind one of the goals. Works were completed in 2001.
The club hopes to be able to replace its old main stand in the near future, but no concrete plans exist at this time.
Besides being the home of Bodø / Glimt, Aspmyra Stadion is also the home of lower leagues side Grand Bodø.
How to get to Aspmyra Stadion
Aspmyra Stadion is located in the south of the town of Bodø close to the airport. It lies less than a kilometre away from Bodø's town centre which makes it an easy 10-minute walk from the centre to the stadium.
Bus 1 and 3 furthermore pass right by the stadium. Bus 1 connects with the airport and city centre and eastern suburbs along the coast, bus 3 with the city centre and inland eastern suburbs.
Address: Fritjof Nansens vei 3 – 7, 8006 Bodø
Bodo / Glimt Tickets
Bodo Glimt tickets can be bought online through Ticketmaster.
Tickets are also available at the ticket windows of the stadium on the day of the match.
Useful Internet links
Glimt.no – Official website of FK Bodo / Glimt.
Visitbodo.com – Bodø tourist information.
Photo credits: Roed