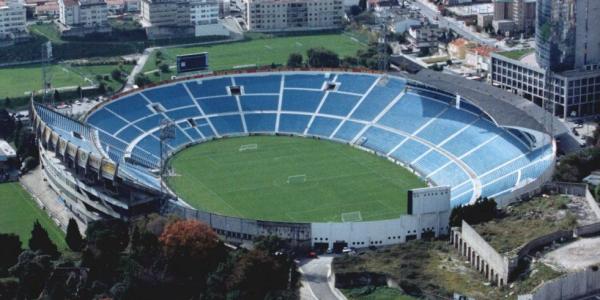 Key facts
Club: FC Porto | Opening: 1952 | Closing: 2003 | Final capacity: 55,000 | Maximum Capacity: 95,000
Description
Estádio das Antas was FC Porto's home ground before the construction of Estádio do Dragão in 2003. It was located just a few hundred metres away from the site of the current stadium.
Estádio das Antas opened on the 28th of May 1952 and had the official name Estádio do Futebol do Clube do Porto. It initially had part of the East Stand left open, but this gap was closed with the construction of the Maratona Stand. At the same time a second tier was added which brought the capacity to about 65,000.
In 1986 the capacity was further increased to around 95,000. This was achieved by lowering the pitch, removing the athletics and cycling tracks, and building an additional lower tier. In the decade following all standing places were gradually replaced with seats, bringing down capacity again to around 55,000 by 1997.
At the end of the 20th century the need grew for Porto to have a modern stadium and with the Euro 2004 tournament coming up plans were made to build a new stadium.
The new Estádio do Dragão got completed in 2003, and shortly after Estádio das Antas was demolished.