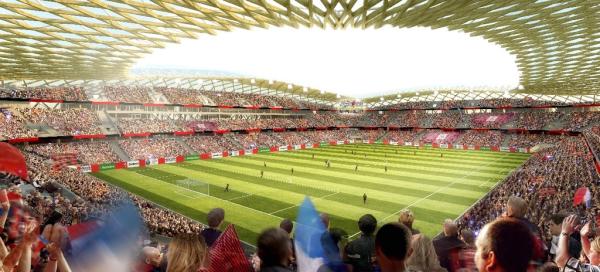 German insurance firm Allianz has expanded the "Allianz Family of Stadiums" with another two naming rights deals.
Last week, they announced that Nice's new stadium will carry the exotic name Allianz Riviera, and at the same time that London rugby club Saracens FC will play at the newly renovated Allianz Park next season.
Allianz's flagship stadium, of course, remains Bayern's Allianz Arena, which they have sponsored from its inauguration.
Earlier this year they announced a sponsorship deal to rename Sydney Football Stadium, home of Sydney FC, into Allianz Stadium.
Christian Deuringer, Global Head of Brand Management at Allianz, described the rationale as follows:
There is a strong emotional aspect to being the naming rights partner of a sports stadium – for a non-tangible brand like Allianz, it quickly becomes the "home of the brand" and a place of corporate pride for our employees and partners.
And more specifically in relation to the Nice deal:
Allianz France rebranded to Allianz in 2009 and the brand has been building and gaining momentum in France ever since, but we were looking for a strong local landmark to familiarize the French public with our brand. Hence, we are very excited about such a significant brand-exposure opportunity as provided by the Allianz Riviera.
The Allianz Riviera, earlier referred to as Nice Eco Stadium or Grand Stade de Nice, is the currently under construction new stadium of OGC Nice. The stadium, boasting a capacity of 35,000 seats, will also be a playing venue during the Euro 2016 championships. It is expected to be completed in June 2013.