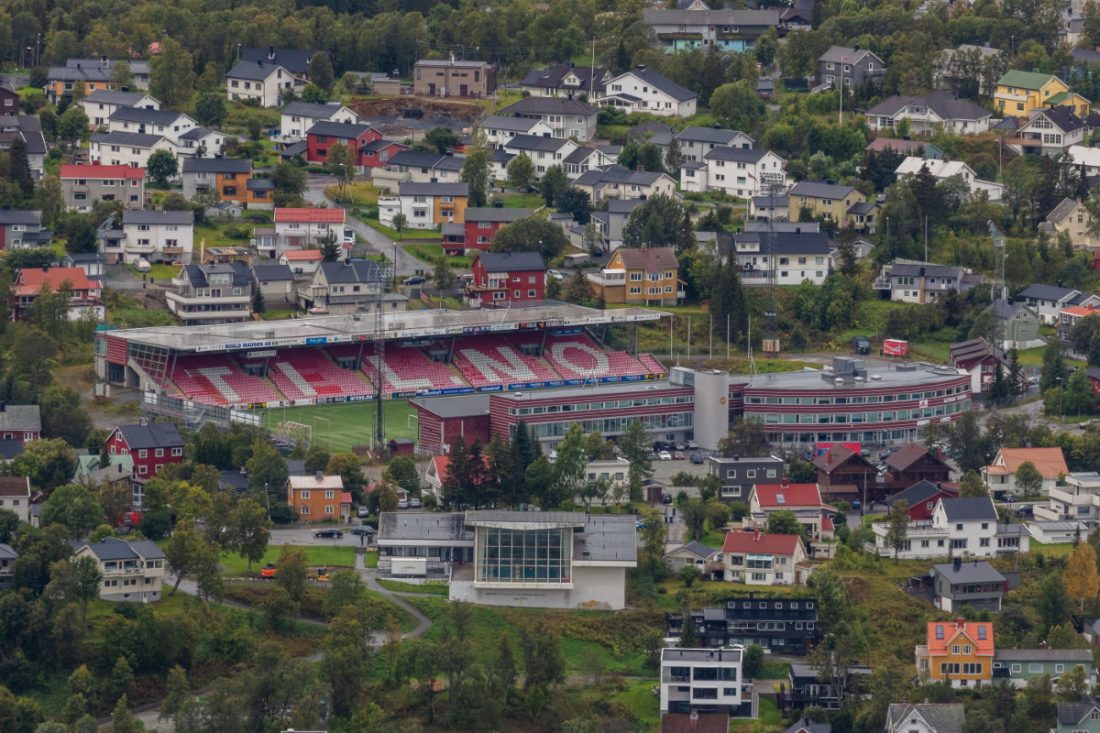 Key facts
Club: Tromsø IL | Opening: 1987 | Capacity: 6,859 (200 standing)
History and description
Alfheim Stadion opened on 18 July 1987. The stadium consists of two covered stands at both long sides and one small uncovered stand at one of the ends.
The record attendance of the stadium was set in 1990 when 10,225 people visited a Cup match against Rosenborg. Over the years the stadium saw its capacity reduced due to the elimination of most standing places.
In the summer of 2006, Alfheim Stadium installed an artificial pitch. Until then, the club used to receive regular complaints about the state of their natural pitch that got heavily affected by the winter that sets in early in the north of Norway.
How to get to Alfheim Stadion
Alfheim Stadion is located toward the east of the small city of Tromsø at less than a kilometre from its city centre. It is an uphill walk from the centre, but will take no more than 15 to 20 minutes.
If coming from the city centre by either car or foot, take the Fredrik Langes Gate uphill, and, shortly after having crossed the Vestregata (at a sort of T-crossing), take the Kongsbakken toward the right. Follow uphill and with a light curve to the left continue onto the Kirkegårdsvegen. Follow for about 500 metres and turn left onto the Alfheimvegen. The stadium will lie shortly ahead on the right.
There is limited public parking around the stadium on the day of the match.
Address: Stadionveien 3, 9007 Tromsø
Eat, drink, and sleep near Alfheim Stadion
Alfheim Stadion is a short walk away from Tromsø's city centre, which offers a good few bars and restaurants. The centre also houses a dozen hotels, which roughly range in price between NOK 600 and NOK 1,000 a night. Click here for an overview of hotels near Alfheim Stadion.
Tromso Tickets
Tickets for Tromsø IL games can be bought online, at the Aurora cinema in Tromsø's city centre, at the Joker store at the stadium, or at the Jekta Storsenter shopping mall near the airport.
Expect to pay from NOK 180.00 to NOK 240.00.
For more information email billett@til.no.
Photos of Alfheim Stadion
Useful Internet links
Til.no – Official website of Tromsø IL.
Visittromso.no – Tromsø tourist information.