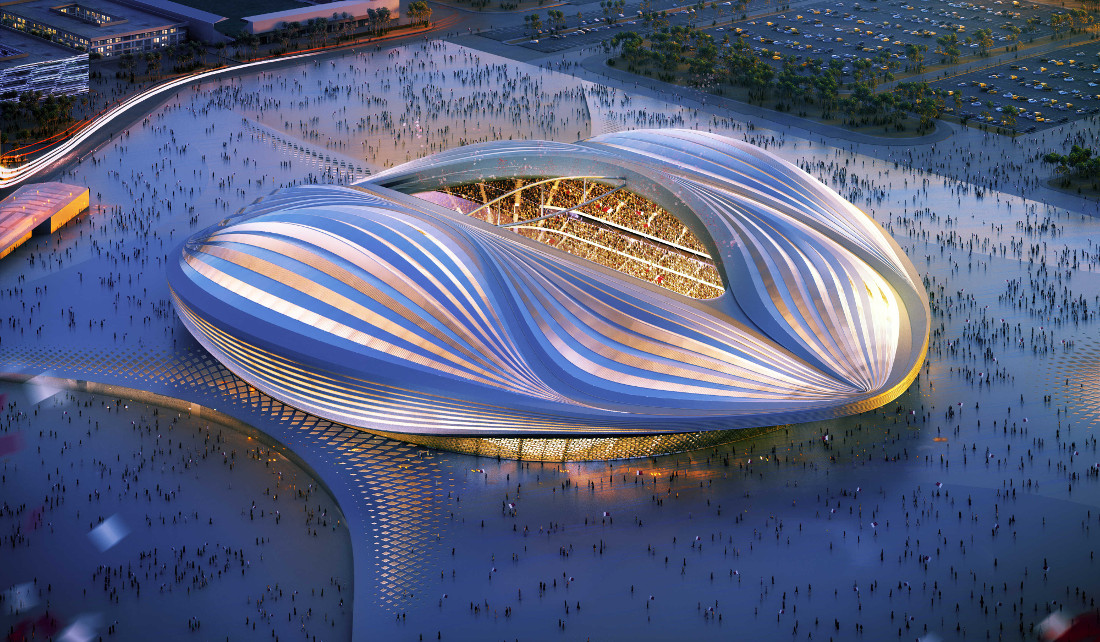 Key facts
Club: Al Wakrah SC | Capacity: 40,000 seats | Scheduled inauguration: 2018 | Status: under construction
Description
Al Wakrah Stadium is a currently under construction stadium in the town of Al Wakrah that is built to serve as one of the playing venues of the 2022 World Cup in Qatar.
The stadium was part of Qatar's bid to host the World Cup, and in 2013 definite plans were presented. First preparations to make the site ready for construction were started in 2014, but it took until 2016 for proper foundation works to commence.
The stadium is scheduled to be completed in the last quarter of 2018, but with some likely delays the opening is more probable to be in 2019.
Al Wakrah Stadium has been designed by Zaha Hadid Architects. Its design is inspired by the hulls of the traditional dhow pearl fishing boats, further reflected by the use of timber and traditional materials. The symmetrical roof composed of three shells is the standout feature. Following the release of the designs, people soon starting noting the resemblance of the roof to female genitalia, but Zaha Hadid has called any comparisons ridiculous.
The stadium will have a capacity of roughly 40,000 seats, making it eligible to host World Cup matches up to the quarter-final. After the tournament, the stadium will be scaled down by removing the second tier to a capacity of 20,000 seats.
Al Wakrah Stadium is getting built just east of the town of Al Wakrah on the way to the village of Al Wukair. The site lies about 5 kilometres east from the central Souq and coast in Al Wakrah.
Al Wakrah lies a little over 10 kilometres south from Doha on the Persian Gulf coast. The distance to central Doha and The Corniche is just over 20 kilometres. The stadium will be connected with central Doha by a currently under construction new metro line.
Images of Al Wakrah Stadium