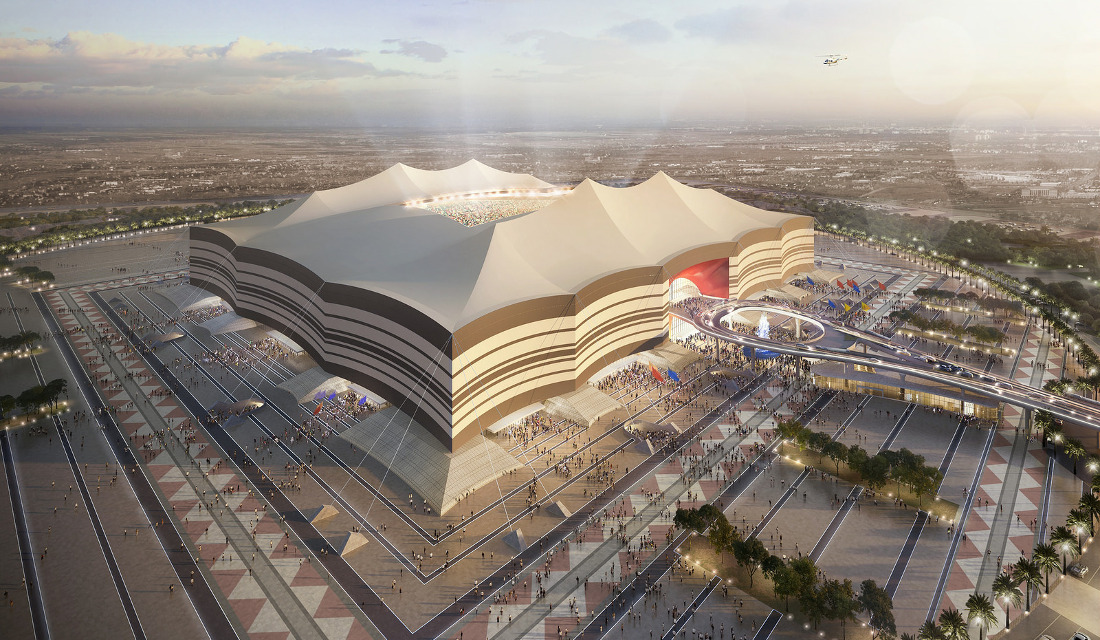 Key facts
Club: Al Khor SC | Capacity: 60,000 seats | Scheduled opening: 2018 | Status: under construction
Description
Al Bayt Stadium, also known as Al Khor Stadium, is a currently under construction stadium that is getting built to serve as a playing venue of the 2022 World Cup in Qatar.
Plans for Al Bayt Stadium got presented in 2014, and construction of the stadium began in late 2015, which made it one of the first of the 2022 World Cup stadiums to start construction. In early 2017, works were performed on erecting the lower tier stands. The stadium is scheduled to be completed by the end of 2018.
The design of the stadium is said to reflect the inside of a Bedouin tent, coloured red, white, and black. These tents, the bayt al sha'ar, is also where the stadium gets its name from. The roof will be retractable, opening and closing in 20 minutes.
Al Bayt Stadium will have a capacity of roughly 60,000 seats divided over three tiers. After the World Cup, the top tier will be removed again, reducing capacity to 32,000 seats.
During the World Cup, the stadium is expected to host one of the semi-finals.
Al Bayt Stadium is getting built on the south-eastern edge of the small city of Al Khor City, which is located on the Persion Gulf roughly 40 kilometres north of Doha. The distance from central Al Khor is about 4 kilometres. The stadium will form part of a new development including a mall, park, and hospital.
Images of Al Bayt Stadium