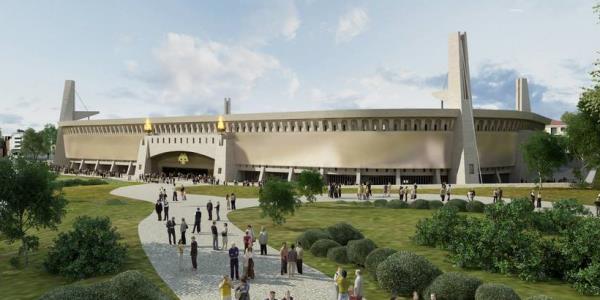 Key facts
Club: AEK FC | Capacity: 33,000 seats | Scheduled opening: n/a | Status: in planning
Description
Agia Sofia Stadium is the proposed new stadium of AEK that the club hope to build at the site of their old Nikos Goumas Stadium, which they left in 2004 for OAKA Stadium as it failed to pass safety requirements.
Following their move to OAKA Stadium, AEK presented various plans to build a new stadium at the site of their old stadium, which is still owned by them, but each time failed to find the required funding. The current plans were officially presented in October 2013.
The club initially stated to want to start construction works early 2014, but this got delayed due to environmental impact concerns and final approval still had not been granted in 2016. The expected completion date is therefore unknown.
Agia Sofia Stadium will have a capacity of 33,000 seats divided over two tiers with a total of 40 VIP Boxes. Its design is inspired on Byzantine architecture.
The project is currently referred to as Agia Sofia Stadium, but it is expected that a naming sponsor will be sought that can cover for some of the construction costs, which are expected to amount to €65 million.
Images of Agia Sofia Stadium