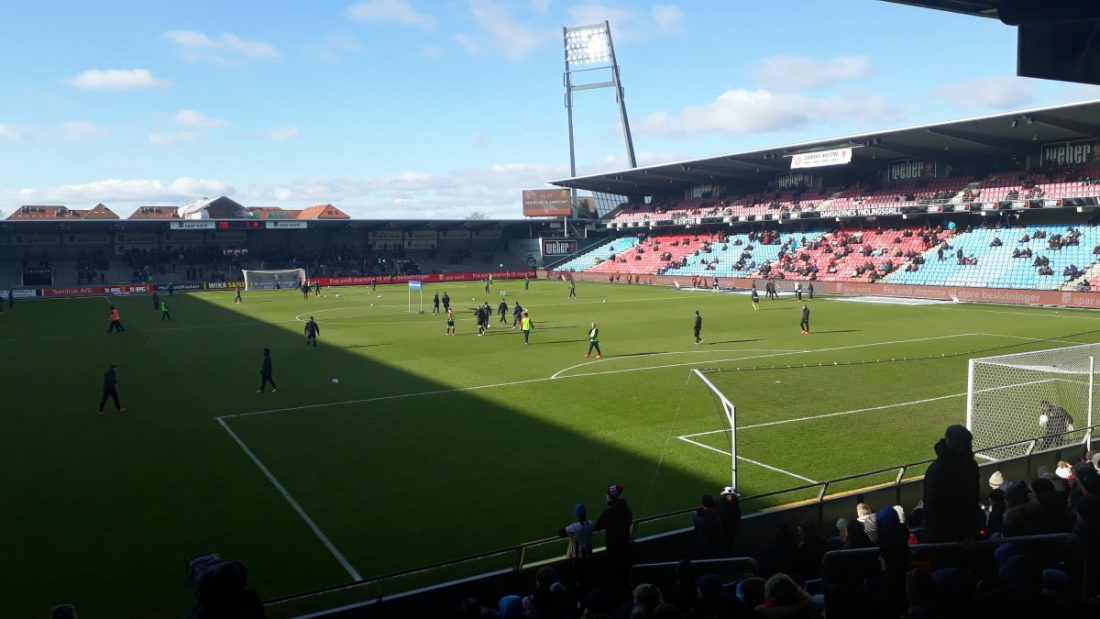 Key facts
Club: Aalborg Boldspilklub (AaB) | Opening: 1920 | Capacity: 13,800 (4,000 standing)
History & description
Aalborg Portland Park, originally named Aaalborg Stadion, opened in 1920 though initially was standing only. The first seater stand opened in 1927 and the stadium got further expanded in 1937 though remained a small ground with a capacity of 3,000.
In 1960, the main stand burned down and a new stadium got built with a capacity of 14,000 places. It opened in 1962.
In the 1990s, both terraces at the ends got rebuilt and the terrace opposite the main stand got transformed into a seater stand. The stand ultimately was completely rebuilt in 2002 into a modern all-seater stand. At the same time, the other stands underwent a large refurbishment.
Aalborg Stadion has gone by several sponsor names over the years. From 2007 it was called Energi Nord Arena and from 2012 Nordjyske Arena. In 2017, the stadium changed name to Aalborg Portland Park following a new sponsorship deal.
How to get to Aalborg Portland Park
Aalborg Portland Park is located just west of Aalborg's city centre at just under 2 kilometres from the central Nytorv Square. The walk from most city centre locations takes less than 20 minutes.
Aalborg's main railway station lies south of the city centre at a 25-minute walk from the stadium. Aalborg Vestby station lies closer to the stadium though, so if you're on the line coming from the north (Frederikshavn) that stops there, get off and walk for 10 minutes.
You can also catch a train from Aalborg main station to Aalborg Vestby though trains only run once or twice an hour. Alternatively, take bus 2 to Vaeddelsobsbanen or bus 16 to Molholm from the bus station at the main railway station. You can catch bus 2 from Nytorv square or Jomfru Ane Gade as well. Get off at stop Kastetvej (bus 2) or Annebergvej (bus 16).
Address: Harald Jensens Vej 7-9, 9000 Aalborg
Aalborg Tickets
AaB tickets can be bought online (mobile ticket), or in person at the ticket windows of the stadium on the day of the match. AaB rarely sell out.
A seat costs DKK 155.00 whereas standing costs DKK 125.00.
Email billet@aab-as.dk for more information.
Useful Internet links
Aabsport.dk – Official website of AaB.
Visitaalborg.com – Aalborg tourist information.
Nordjyllandstrafikselskab.dk – Aalborg public transport information.
Photo credits: Tomasz Sienicki